GreenWood Forest Park win Green Innovation Network prize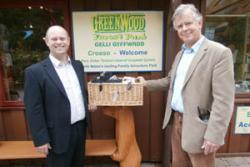 Green Innovation Network Project Manager, Stuart Bond (left), presents Stephen Bristow, Managing Director of Greenwood Forest Park with the Welsh produce hamper. GreenWood Forest Park is the winner of a recent prize draw organized by the Green Innovation Network Project at Bangor University. The prize, a hamper brimming with delicious Welsh produce from gift company, Bodlon, was drawn from a range of businesses that completed a survey by the project. The research was to find out more about exactly what kind of training businesses need in order to benefit from greener business practices.
A range of businesses from across north Wales responded, and the top requests were for support and guidance on marketing green products or services and how to measure carbon in businesses.
Project Manager, Stuart Bond said:
"It's vital to our success that we provide the training that businesses actually need and want to benefit from the green economy, making sure that their needs are at the heart of everything we do. This survey has helped us to get the information that we need, direct from north Wales' business community, which will form an integral part of our training programme over the coming two years."
GreenWood Forest Park has been recognised with many different awards, covering both tourism and the environment, and most recently have been voted the best family attraction in north Wales.
Stephen Bristow, Managing Director of GreenWood Forest Park said:
"Every year, we make consistent efforts to minimise the negative effects on the environment and maximise the positive but there's always more to learn - we look forward to working with the Green Innovation Network, both to share our successes with other businesses and to learn from others about how to be even more sustainable"
The Green Innovation Network is a Green Innovation Future Technologies Project (GIFT) that aims to benefit businesses and help grow a Green Economy through networking events, training courses and collaborative projects with business. It is a joint venture between Bangor University, University College Dublin and Waterford Institute of Technology and is part funded by the European regional Development Fund through the Ireland Wales Programme.
To find out more about GIFT and future events visit their website or telephone 01248 388387.
Publication date: 2 August 2012