Growing the Green Economy
Six Welsh businesses are travelling to Ireland this week (3 October) to spread the word about how their green ethos and credentials have helped their business.
The Gwynedd-based companies have been taking part in a green economy project with Bangor University. The Green Innovation Future Technologies Project (GIFT) is working to develop the green economy within Interreg regions in West Wales and Ireland. The project pools relevant expertise at Bangor University's Business School and School of Environment, Natural Resources and Geography and the School of Business and School of Science at Waterford Institute of Technology and University College Dublin's School of Biology and Environmental Science.
The aim is to provide easily accessible up-skilling opportunities for businesses. The benefits for the businesses involved include free advice and support, networking and collaboration opportunities with other businesses, industry experts and social enterprises, so that they can share experiences and create new opportunities.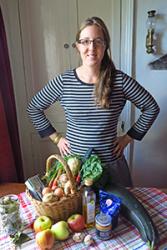 Rosie Kresman of Fresh Bocs.Rosie Kresman is establishing Fresh Bocs, a web based local produce start up in the Llyn peninsula in Gwynedd, due to be launched next year to provide an on-line 'shop window' for local growers and artisan food makers. She said:
"I'm really excited at the opportunity to be involved in this event, which strives to promote and support environmental sustainability within business. Co-operation, information-sharing and networking between businesses and organisations like the Green Innovation Network is key to advancing sustainable practises and technologies, which improve efficiency and can in fact add value to a business's offering in an increasingly environmentally - aware market."
The owners of Bryn Bella, a five bedroom guesthouse near Betws-y-Coed have developed a car-free holiday package in conjunction with local businesses and were the first guest house in Wales to install an electric charging point for cars..
Owner Mark Edwards is passionate about the environment and commented on how: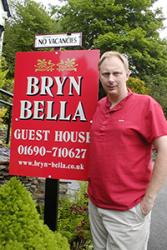 Mark Edwards of Bryn Bella Guest House."Gift allows us to network with like-minded people sharing ideas and best practice. As a micro business the opportunities to mix with larger organisations has allowed us to gain a better understanding of technologies and practices we would not otherwise be able to participate in. By regular meetings we not only keep abreast of current legislation but also get to hear about future technologies. This continual professional development is invaluable at all levels, but it's priceless for a business of our size as we would not otherwise be able to keep up to date with this sector. We will continue to promote and support GIFT the best way we can both now and in the future and that is why we are happy to share our story with our colleagues in Eire."
Newly signed up to the GIFT project, Pete Wilkinson, of Penrallt Coastal Campsite said:
"We're keen to share and compare our experiences, aspirations, dreams, struggles and achievements. We're aware of a need for change, to comply, and to champion changes, and realise how essential it is to have good networking for the exchange of ideas and mutual support. "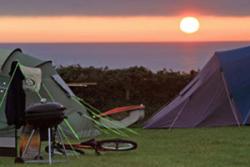 Penrallt Campsote.With initiatives such as paper towel composting and restoration of wild flower areas and maritime heath, the Penrallt campsite has achieved Green Dragon Accreditation and Gold Standard from the Marine Conservation Society for their commitment to Environmental Sustainability.
Stuart Bond, GIFT Project Manager at Bangor University explained:
"These businesses have seen the potential for themselves and have embraced the green economy. The GIFT project has been able to assist them, and offers the same support to other companies eager to exploring ways of becoming part of a greener economy.
We're keen to work with businesses from all sectors, interested in developing or streamlining. We can address specific business problems or investigate an opportunity, and can assist companies with a broad spectrum of advice and support from selecting and implement an Environmental Management System, to looking at renewable energy or waste management to culture change and communication."
The Welsh businesses will be showcasing their work at the GIFT 2nd Annual Learning Showcase Event 2013 in Johnstown Castle, Co. Wexford, along with Irish partner case studies and are illustrating Sustainable Business in three areas: Accommodation/Adventure; Green Technologies and Green Communities.
GIFT is project is part funded by the European Regional Development Fund (ERDF).
Publication date: 2 October 2013