Growth in number of Welsh learners in NW Wales
The number of adults learning Welsh in the north-west is on the up, with both Bangor University and Grŵp Llandrillo Menai recording their highest ever learner numbers in 2015/16 – a total of 3043; an increase of 8% on the previous year. This success is particularly significant in view of the fact that both organisations have been selected by the National Centre for Learning Welsh to work together by establishing a Consortium to be responsible for teaching Welsh to adults in the counties of Anglesey, Conwy and Gwynedd.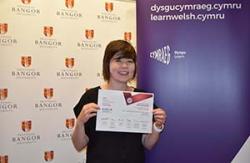 Lowri Mair Jones, Welsh for Adults, at the Cadarn Awards recently
The quality of the provision, under the guidance of Bangor University has already been the subject of praise by Estyn, the education inspectorate, who awarded them an Excellent rating. The Consortium's aim is to build upon this and constantly introduce improvements to the courses. One of these improvements has been in the use of technology which means that learners can now undertake half their learning online with the Consortium's purpose-made resources. From September this year, every new learner can follow a course in this way. Ifor Gruffydd, the Consortium's Director explained:
"These courses proved to be very popular when we piloted them last year and the main reason is that the courses allow learners to learn at a time that suits them. This is so important now that people's spare time is so scarce".
Underlining its commitment to e-Learning, the Consortium picked up an award for its resource "Y Wers" ('The Lesson' – http://ywers.com/ ) at the national 'Cadarn' Education Resources Awards recently (right). 'Y Wers' is a website for Teaching staff which offers support and examples of good practice via video.
With the new term starting this month and courses running throughout the three counties, the Consortium is taking pioneering steps to ensure that the courses are affordable to all learners. Ifor Gruffydd explained:
"In order that our courses are accesible to all learners, we charge one fee for any course so that learners can choose the course which suits them best, without having to worry about the cost. Every course costs £70 (per year), or £35 for the unemployed, which offers incredible value for money and ensures that everyone has an opportunity to learn."
For more information about our courses go to www.bangor.ac.uk/cio or call 01248 383928.
Publication date: 27 September 2016