Gwen Elin wins Bryn Terfel Urdd Scholarship
Sunday evening, 25 October, 2015 singer Gwen Elin from Benllech, Angelsey, who is following a degree course at School of Welsh, Bangor University, won the prestigious Urdd Gobaith Cymru Bryn Terfel Scholarship in a spectacular concert held in Blackwood Miners' Institute. The Scholarship, which is worth £4,000, was presented to her in the concert that was broadcast live on S4C.
Gwen took the top spot after impressing five expert judges, Stifyn Parri, Gwawr Owen, Gwenan Gibbard, Siân Teifi a Catrin Lewis Defis. Gwen's repertoire included 'Yn Sydyn Seymour' from 'Little Shop of Horrors' and 'Y Dewin a Fi' from the 'Side Show' musical. In the lead-up to the Scholarship concert, she had a master class with West End star, Connie Fisher.
Gwen is a member of Aelwyd yr Ynys, Theatr Fach Llangefni and Côr Merched Llewyrch, and she and her Brother Deio recently formed a new children's singing party in the Benllech area called Plant Mathafarn.
Gwen said, "It was an amazing experience competing tonight and everyone were fantastic – I didn't expect to win at all! It is a bizarre feeling and I just can't believe that I have won!
"I intend to use the money to fund a post-grad degree in music and theatre – either in London or Cardiff."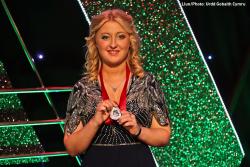 Stifyn Parri, one of the panellists said, "The standard was excellent tonight and we could have given the scholarship to any of the six performing but it was Gwen's performance that made the mark – there was something magical about her performance that mesmerised the audience.
"It was hard to come to a decision and every one of them had their merits but we were all agreed that Gwen was the deserved winner of the scholarship tonight."
Aled Sion, Director of the Eisteddfod, added, "We had a spectacular concert tonight at the Miners' Institute in Blackwood. It was great that these talented winners returned to the Caerphilly area to compete for this prestigious scholarship. I am confident that winning this scholarship will be a big boost to Gwen's performing career and I look forward to following her success in the future."
Dr Manon Wyn Williams, a lecturer in drama and scriptwriting in the School of Welsh and the winner of the Bryn Terfel Scholarship in 2008, said:
"As a member of Ysgol y Gymraeg's staff and as a friend of Gwen, I'm extremely proud of her achievement and I'm glad that her talent has been recognised on a national stage. Winning this scholarship will be a strong foundation for a thriving livelihood in the future."
Publication date: 26 October 2015