Gwrych Castle: The historical setting for I'm a Celebrity…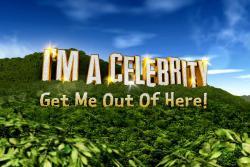 To mark the start of the 2020 series of I'm a Celebrity … Get Me Out of Here! at Gwrych Castle in Abergele, Bangor University is highlighting some of the castle's history.
Dr. Shaun Evans of Bangor University's School of History, Philosophy and Social Sciences provides the background saying:
"Gwrych was constructed as a massive Gothic fantasy castle between about 1810 and 1825 by Lloyd Bamford-Hesketh (1788-1861) in memory of his mother Frances Lloyd and their Lloyd family ancestors.
The Lloyds, or Llwyds, had been associated with the locality for generations, residing at a Welsh country house called Plas yn Gwrych. They were a relatively minor, yet longstanding and locally influential uchelwyr or gentry family. The National Library of Wales in Aberystwyth holds a collection of records relating to the history of Lloyd family and their estate. Manuscripts from the sixteenth and seventeenth century feature genealogies tracing their noble Welsh ancestry and copies of the Welsh-language praise-poems (canu mawl) which were composed in celebration of their gentility."
Lloyd Bamford-Hesketh celebrated this Welsh heritage at his new Castle by commissioning stained glass windows for the main entrance to the house featuring the coats of arms of the five royal and fifteen noble tribes of Wales."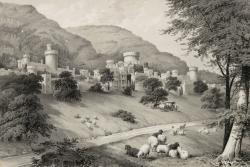 Gwrych castle and its surrounding landscape.Under the ownership of the Bamford-Heskeths and Winifred, Countess of Dundonald (1859-1924), the sprawling Gwrych Castle emerged as a prominent architectural statement in the landscape of north Wales. By the 1870s the estate surrounding the castle extended to more than 3,400 acres, exerting a significant influence on local society, community and economic life in and around Abergele."
As with many other Welsh country houses and estates, the twentieth century witnessed a period of significant transformation for Gwrych, signalled by the breakup of the estate and the sale of contents from the house. During the second world war Gwrych played host to a group of 200 Jewish refugees as part of the Kindertransport programme. It later developed into a prominent visitor attraction, used as a training base for the boxing champion Randolph Turpin, hosting medieval banquets and jousting tournaments, motorcycle races and even a zoo!"
Despite its listing as an important heritage site, from the late-1980s the site slipped into a state of rapid decay: abandonment, vandalism and looting contributed to what was increasingly a ruinous building. However, over recent years there have been concerted efforts to rescue and restore the Castle under the management of the Gwrych Castle Preservation Trust, (https://www.gwrychcastle.co.uk/) which is led by one of our History graduates, Dr. Mark Baker. We hope that the new relationship with I'm a Celebrity provides a significant boost to these efforts."
Shaun added:
"The filming of I'm a Celebrity at Gwrych is fantastic news for the region. The Castle will provide a brilliant setting for the show: I'm really excited to see how they make use of the historical environment and how the funding is invested in the restoration programme. Just as importantly, this provides a great opportunity to showcase north Wales: the richness our culture, history and heritage, our landscapes and communities. If done correctly it has the opportunity to deliver lasting benefits for our region."
Shaun is Director of the Institute for the Study of Welsh Estates, a research centre based at Bangor University which has been established to analyse the history of estates such as Gwrych. He explained the significance of landed estates:
"From the late-medieval period through to the early-twentieth century Wales largely consisted of a patchwork of landed estates, which varied significantly in their size, character and composition. Places such as Gwrych are really important for understanding the history of Wales, from the nature of landscape and architecture, through to the history of literary patronage and musical performance. These estates and their owners exerted significant influences in society, meaning that they're also really important for understanding the history of our communities: the generations of people who lived and worked on estates."
The filming of I'm a Celebrity at Gwrych underlines the richness of the region's historical environment. Gwrych Castle is a Grade 1 listed heritage site as a 'magnificent large scale example of a Romantic castellated mansion; particularly important for its spectacular and extensive Picturesque composition, one of the finest examples of its date in Britain.'"
He adds:
"We're so fortunate at Bangor University to have such a fantastic range of cultural heritage sites and landscapes on our doorstep. This really enriches the history degree programmes that we offer at Bangor. In normal circumstances, being able to visit and make use of these sites, together with our fantastic archives and museums, contributes something special to the teaching and learning experience at Bangor."
To find out more about studying History at Bangor visit: https://www.bangor.ac.uk/history-philosophy-and-social-sciences/index.php.en
Publication date: 13 November 2020