Hard working volunteer wins award for dissertation
A hard working student, who volunteered throughout his studies, is graduating from Bangor University this week.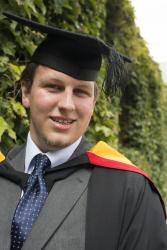 Daniel Rhydderch-Dart

Daniel Rhydderch-Dart, 21, who is originally from Dolgellau but now lives in Conwy, graduated from Bangor University with a joing honours degree in History and Religious Studies. He was also awarded the Andrew Downham award, worth £100, for his dissertation in History.

Daniel, a former pupil of St. Gerards, Bangor, said: "It feels great to be graduating, and such a relief!

"I was delighted to receive the Andrew Downham Memorial Prize for my dissertation – a prize given in memory of Andrew Downham, a second year history student who died in 1992.

"I would like to thank those who are associated with the awarding of the prize, Professor Huw Pryce, who supervised my work with great thoroughness and Dr Huw Glyn Williams from Caernarfon, who also encouraged me whilst I was researching at the Caernarfon Record Office."

Daniel added: "During my time at Bangor, I worked as a volunteered with the Education Officer in the Welsh Mountain Zoo as I am very interested in nature. I also worked with the Gwynedd Archaeological Trust on their dig in Tai Cochion, Ynys Môn, during the summer. It was great to work under expert supervision and share the enthusiasm of the other volunteers.

"I also carried out work experience with the Gwynedd Archives Service in Caernarfon where I catalogued, worked in the search room and in the conservation section. It was a privilege and fun to work there.

About the future, Daniel added: "I intend to take some time out to travel, to follow my interests and to do some personal research. I hope next year to be accepted to complete a higher degree preferably in Bangor if they'll have me!
Publication date: 12 July 2013