Harry Potter fan Sam prepares for world-wide wizarding event
A Bangor University student will be travelling to Canada to take part in a global quidditch competition.

Sam Davies, a Creative Studies and Media student here at Bangor is thrilled to be involved in the competitive sport featured in Harry Potter novels and films.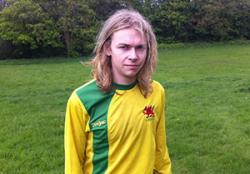 Sam Davies
The Global Games is an event in which countries around the world compete in the wizarding sport played on broomsticks.

"When I was younger I used to be a big Harry Potter fan, I went to all the midnight premieres of the books and movies, but gradually grew out of it. When I got to Uni and found out there was a quidditch team, I thought it would be funny to go along and see how it was done." said Sam, from Penyffordd.

Sam plays for the Bangor Broken Broomsticks and was chosen for the British National Quidditch Team following a selection process in Leicester.

"Preparing for the Global Games has been quite a demanding task so far. After getting on to the UK squad, we then had to attend a few training and fitness trials before myself, Andrew Hull, Sally Higginson and Tom Heynes from Bangor Broken Brooms made it onto the UK team. Four other Bangor members, Anna Barton, Lee Marsh, Will Johnson and Ben Honey also made it onto the UK squad. Now while we're waiting to go to Canada we are continually working on fitness training and practising game play, as well as taking every opportunity we can to practise with other team UK members." said Sam (20).

Despite the global recognition, Sam feels that quidditch has been under scrutiny and is often questioned if it is an actual competitive sport.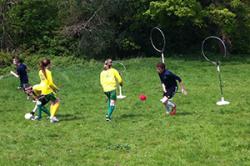 "I feel very proud to be able to represent my country at a sport, especially a sport that people keep telling me isn't real. I am proud to be on a national team that works hard to promote gender equality and giving everyone a chance."

The International Quidditch Association World Cup competition will take place on July 19th in Burnaby, Canada.
Publication date: 2 May 2014