Harvard Students visits Bangor's School of Welsh
Liam Anton Brannelly is currently spending this semester studying in Bangor as part of the PhD exchange scheme between the Department of Celtic Studies at Harvard University and Bangor University's School of Welsh.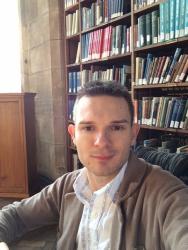 Anton received his BA and MA degrees in English from Hunter College (City University of New York), where he first developed an interest in the languages and literatures of medieval Britain and Ireland. At Hunter College, most of his graduate research revolved around the idea of British multilingualism and the interplay, especially, of English, Latin and Welsh in the late medieval and early modern eras. His later research (leading to his MA dissertation) was concerned almost exclusively with medieval Welsh poetry and the work of Dafydd ap Gwilym, in particular.
His current interests and pursuits include exploring medieval Irish and Welsh attitudes to gender and sexuality, representations of male beauty in bardic poetry, and the possibility of applying late 20th-century postmodern theory to medieval Celtic literature.
He is currently working with Professor Jason Walford Davies, Dr Aled Llion Jones and Professor Peredur Lynch as well as following classes to improve his aural and written skills in Welsh.
Publication date: 13 March 2017