Head of School attends international forum in China
Professor Jonathan Williams, Head of Bangor Business School, recently visited China to deliver a keynote speech at Beijing Normal University Zhuhai (BNUZ)'s International Business School Dean's Forum.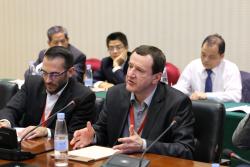 Professor Jonathan Williams presents to business school deans from around the world
Held between the 19th and 20th of November, the Forum commemorated BNUZ's 15th founding anniversary, and explored the opportunities and challenges faced by business schools in the present global economic and political climate. It was attended by deans from universities around the world, including the US, UK, Canada, Australia and South Korea.
Professor Williams, Professor of Banking and Finance at Bangor, spoke on the internationalisation of business schools and their curriculum, demonstrating how Bangor Business School uses its research-led teaching to develop specialist programmes at undergraduate and graduate levels, which the School enhances through the provision of transferable skills, accreditations, and pathways to professional qualifications. He commented that: "Bangor Business School offers an exciting range of specialist programmes that add value to talents to increase both their potential and employability".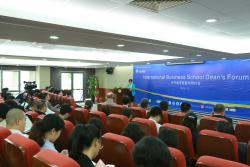 The International Business School Dean's Forum, held at Beijing Normal University, Zhuhai
Bangor has enjoyed an articulation agreement with BNUZ since 2013, and there are currently around 50 BNUZ students studying at Bangor Business School, pursuing courses in Banking, Accounting and Finance. Students study under a '2+2' agreement that allows direct entry onto Year 2 at Bangor, following successful completion of the two-year Finance programme at BNUZ.
Publication date: 6 December 2016