Head of School visits partner institutions in China
Professor Jonathan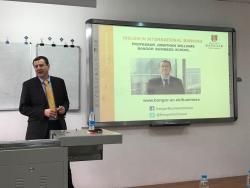 Professor Jonathan Williams presenting at Tianjin Normal University Williams, Head of Bangor Business School, has visited a number of the School's partner institutions in China.
The successful two-week trip saw him visit universities in seven cities – including Beijing, Shanghai, Zhuhai and Tianjin – to meet with Deans, International Programme Managers and prospective students.
As well as delivering guest lectures to staff and students on international banking issues and Bangor Business School, Professor Williams also discussed ways to strengthen existing links and potential new partnerships.
The partners – listed below – expressed satisfaction with the academic progress of the students who had enrolled at Bangor, and acknowledged the School's many strengths, including the outstanding level of academic research, the quality of teaching, the focus on professional skills and accreditations, and genuine staff commitment to student welfare. Moreover, Bangor was considered to be a safe, inexpensive, and beautiful location for university study.
Universities visited:
Research Institute of Tsinghua University in Shenzhen
BNUZ Beijing Normal University, Zhuhai
Zhejiang University of Finance and Economics
Hohai University
Huanghuai University
Henan University of Technology
Beijing Foreign Studies University
Shanghai University of Finance and Economics
Tianjin Normal University
Publication date: 4 April 2017