Health and Medical Research Showcase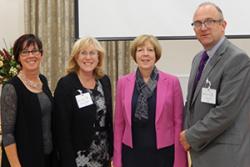 Prof. Jo Rycroft Malone (Head of the School of Healthcare Sciences), Dr Angela Hopkins (Executive Director of Nursing & Midwifery) and Prof. Matt Makin (Medical Director, BCUHB) with Dr Ruth Hussey (Chief Medical Officer for Wales) Bangor University and the Betsi Cadwaladr University Health Board (BCUHB) held their first open Joint Research Showcase recently. The event showcased current research interests across the two organisations and sought to create opportunity for greater research collaboration in the region. Over 110 delegates were registered for the conference and 50 research abstracts were submitted for the event which included a poster conference.
The conference was opened by Prof. Ruth Boaden, Director of the National Institute for Health Research CLAHRC between the University of Manchester and all 10 Primary Care Trusts and other NHS organisations in Greater Manchester. Prof Boaden spoke on the challenges and opportunities of building strategic collaborations between the HE community and the various public Health bodies, offering insights to help inform the University's work with the BCUHB.
The research conference was structured around three strands of presentations with researchers presented their interests from from a broad research base and from the fundamental to applied research. Research topics addressed were as diverse as the genetic factors in cancer, diagnostic methods, efficacy assessments for treatment methods, health and treatment intervention assessments, psychological research, social research addressing policy and practice and an extensive portfolio of research in health economics across a interventions, care and working practices.
Alongside the scientific programme the North Wales Organisation for Randomised Trials in Health coordinated a programme focussing on the research infrastructure in place in the region which offers a significant and substantial support to health and medical research, from trials development support through the core research support facilities in the Universities and the commercial opportunities through emerging facilities such as the Menai Science Park.
The Chief Medical Officer for Wales, Dr Ruth Hussey, delivered the closing plenary at the conference and she praised the diversity and quality of the research being delivered in north Wales and the emphasis on its applied nature and the potential for impact.
The conference is a milestone in the development of the University's engagement with the Betsi Cadwaladr University Health Board and follows on from a Strategic Development workshop held earlier on the summer to scope out the potential range and breadth of the collaborative opportunity for both organisations. Both organisations are seeking to harness collaborative and join opportunities to build stronger organisations and to support further the impact and development of the high quality research in both organisations. To be informed of future developments, contact Chris Drew (c.drew@bangor.ac.uk).
Publication date: 7 October 2015