Health Partnerships to teach, train and provide practical assistance to health workers in Lesotho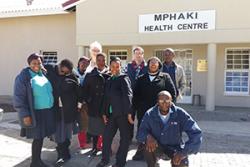 An earlier visit to meet project partners at Mphaki Health Centre, Lesotho.
Bangor University's School of Healthcare Science will be sending key academics with expertise in healthcare organisation, management and leadership to Lesotho.
The University is working with Betsi Cadwaladr University Health Board (BCUHB) on a Department for International Development funded project awarded via the Tropical Health & Education Trust Health Partnership (THET) Scheme.
The 20 month project will see the University and Health Board working in partnership with health colleagues in Quthing, Lesotho in Sothern Africa. Bangor University's School of Healthcare Sciences will be providing bespoke refresher training in clinical skills at remote health centres and to support health management at a district level. This will be delivered using a sustainable 'train the trainer' model so that the benefits can continue beyond the project life.
Professor Christopher Burton, Deputy Head of School of Healthcare Sciences commented:
"I am delighted that this project will enable the expertise and experience of staff from the School of Healthcare Sciences to contribute to the development of nursing services in Lesotho. This project will address important health challenges in southern Africa, and is an excellent example of how the School and colleagues from BCUHB can collaborate with international partners to improve health across the world".
BCUHB has a longstanding link with their partners in Lesotho and will be sending health workers with primary care and clinical assessment skills as part of the project, which will also see the Welsh team benefitting from seeing how common challenges, such as how healthcare is delivered in rural Lesotho, are addressed.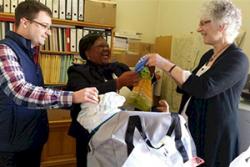 Aaron Pritchard, Research Officer at the College of Health & Behavioural Sciences, Likeleli Nkhatpetla and Kathrin Thomas (BCUHB) inspecting a medical training model.Dr Kathrin Thomas, Chair of the BCUHB steering group, said:
"I have visited Quthing and seen for myself the huge challenges that health workers face, and I am amazed at their commitment and resilience. We are learning from each other, and we hope that this project will enable us to help people in Quthing get the healthcare that can make a difference between life or death to so many."
With a shortage of 4.25 million health workers around the world, the growing gap between the supply of appropriately trained health workers and the demand for their services is a key issue for underdevelopment and poverty worldwide.
Ben Simms, Chief Executive at THET said;
"The world faces an acute shortage of trained health workers. This is why these collaborations are so exciting. Our colleagues will be travelling overseas to improve the knowledge and skills of health workers in countries with next to no capacity in critical areas such as Anaesthesia, Mental Health, Infection Control and Emergency Care. They do so as volunteers, sharing the very best of what the NHS has to offer with countries working hard to provide healthcare to all citizens. In the process, they will acquire fresh insights to benefit their work back here in the UK."
Publication date: 3 November 2015