Help in a Blizzard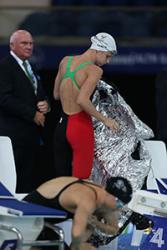 Wales' Jazz Carlin took gold in the 800m freestyle at the Glasgow Commonwealth Games.Special jackets made in Wales could help keep Welsh athletes warm when the competition hots up in Glasgow.
Welsh athletes will have access to new hi-tech Blizzard jackets, designed to keep their muscles and body at the optimum temperature for competition.
While a warm-up is a staple part of an athlete's routine, the time before an event starts can see a significant loss of heat that could reduce muscle power and increase the risk of injury.
To solve the problem, Sport Wales has teamed up with the Welsh Elite Performance Sport Innovation Network (WEPSIN) and Welsh-based company Blizzard Protection Systems Ltd.
Sports such as swimming, athletics and shooting will use the jackets at the Commonwealth Games.
As part of WEPSIN, a research study was carried out by Dr Liam Kilduff of Swansea University and Professor Christian Cook of Bangor University's School of Sport, Health & Exercise Sciences, which has demonstrated the effectiveness of the jacket in improving athlete performance.
"The rationale for the use of this product is that there are significant periods of time, between when the athletes complete their warm-up and the beginning of competition, when an athlete can lose muscle temperature," says Professor Kilduff.
"We know a high muscle temperature is vital to allow the athlete to produce high levels of power. In addition, a high muscle temperature helps minimise the risk of injury. This product allows the athletes to maintain muscle temperature during these potential heat loss windows."
WESPIN is a Wales-wide network including academics from Swansea University, Bangor University and University of South Wales linking with Sport Wales and Welsh businesses.
Bethesda company Blizzard produce survival material for the military and emergency services, among a range of products.
Jackie Webb, Business Development Manager, commented:
"We have made many bespoke products for the athletes to meet their individual requirements and sports.
"The material in the product for the Welsh athletes was originally designed and used as survival bags by climbers and walkers, and it has developed over the years to be extensively used by the US and British military for the treatment of hypothermia in trauma casualties. It is now used extensively by the emergency services, including fire and rescue, ambulance, search and rescue and air ambulances.
"Recently, our jackets and trousers were used by Amy Williams and Lizzie Yarnold when they won their gold medals in the skeleton."
The technology and use of the jackets will be a significant addition to preparation in Glasgow for some of our sporting stars.
Scott Simpson, national performance coach for Welsh Athletics said;
"The physiological benefits of heat maintenance are now well reported and, as we are always looking for the additional one percent advantage in our own performance over our opposition, the use of the Blizzard garments was a no brainer.
"Athletes using the garments in both training and competition have noticed a significant performance gain. In competition there is also the added benefit of the psychological edge gained by having something that assists performance that the opposition do not.
"All in all it has been a great partnership and one that we are keen to continue moving forward."
Sport science manager and physiologist for Swim Wales, Natalie Williams is another to have teamed up on the project. She said;
"The Blizzard jackets are being used during extended periods, such as between finishing a swimming warm up and racing, due to competition rules of the swimmer having to enter a call room 20 minutes prior to racing.
"The aim is to maintain muscle temperature from warm up to improve power output, along with other physiological mechanisms to improve swimming performance."
Welsh Target Shooting Federation Performance Manager John Dallimore;
"We have tried them at the ranges during the winter and athletes have found them extremely beneficial.
"The gloves and blankets will be available for use by the athletes on the Commonwealth Games pistol range, rifle range and shotgun grounds."
Publication date: 22 July 2014