Hidden Worlds revealed at fourth Bangor Science Festival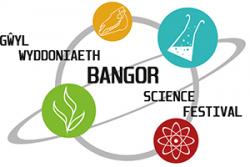 School of Biological Sciences' student Katy Blakeley's winning logo for the FestivalHidden Worlds' the flagship event at Bangor University's Science Festival, which runs 14-23 March 2014, is offering even more hands on activities and demonstrations in this the Festival's fourth year.
'Hidden Worlds' takes place in the Brambell Building on Deiniol Road between 10.00- 4.00 on Saturday 15th March and is free and open to all. The laboratories will be teaming with activities such as 'The Avian X-Factor' and 'Raiders of the Lost Past', as part of the hands-on science day. The usually private research aquariums will be open and visitors will also be able to hold and touch reptiles and sea creatures; the general public will also be given access the to the University's impressive natural history museum. Added to this, the popular 'Flash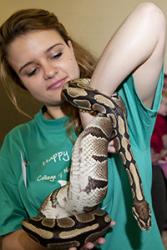 A student handles a non-venomous snake during a previous 'Hidden Worlds' eventBang' Chemistry shows take place at 12.00 and 1.30, guaranteeing plenty to do and see for people of all ages at the event.
Other public events during Bangor Science Festival include guided geological walks around some of our spectacular landscape. These are on 16, 19 and 23rd March, and joining instructions are on the Festival website: http://www.bangor.ac.uk/bangorsciencefestival and a 'behind the scenes' talk about 'Hidden Burma', from a Bangor graduate who was a co-presenter on the recent BBC 2 series of the same name. Please email alumni@bangor.ac.uk to secure your place at this event on the 18th of March at 6.30pm in the University's Wheldon 1 Lecture Theatre.
A Sustainable Resources Careers Event is also part of the Festival. The event, running between 1.00-5.00 Wednesday March 19th at the School of Ocean Sciences, Menai Bridge, will introduce people to the types of jobs which are becoming available in the emerging Sustainable Resources sector, and skills required to do those jobs. This event will illustrate the employment and training opportunities in the Sustainable Resources sector here in north Wales as well as firing people's enthusiasm for the new opportunities emerging.
Full details of all the events are available on the Events website.
Councillor Douglas Madge, Mayor of Bangor said: "Bangor University's Bangor Science Festival has proved very popular with local people over the last few years and the city of Bangor is proud to be part of such a festival which will highlight the science excellence we have in Wales to the wider community."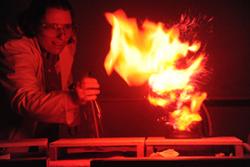 An image from the popular Flash Bang Chemistry Show, part of the 'Hidden Worlds' eventStevie Scanlan, Marketing Manager for the College of Physical and Applied Sciences at Bangor and one of the event co-ordinators said:
"By starting up the Bangor Science Festival four years ago our aim was to engage with the wider community of north Wales and to showcase the world-leading scientific research which is being carried out here in Bangor. We're pleased to be the Bangor hub for National Science and Engineering week activities, and to work with our partners and sponsors to deliver yet another action-packed week of activities."
For more information see the Bangor Science Festival web site www.bangor.ac.uk/bangorsciencefestival or email the organisers on b.s.f@bangor.ac.uk


Publication date: 13 March 2014