High Street Challenge for Enterprising Students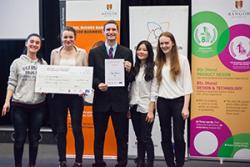 Enterprise by design winning team for 2016 were 'Innovation' (left - right) are Zehra Merve Okhiz, Kat Atkinson, Andy Leavers, Guidan Ke and Paula Noon.The increasing need to transform the customer experience of the high street set the scene for Enterprise by Design 2016. The competition, which has a prize fund of £5,000, brings individuals from diverse academic disciplines within Bangor University to work together as teams to solve a real world design brief provided by a local commercial partner; this year Bangor City Council.
How the high street could adapt to meet changing customer needs gave the 60 participating students plenty of food for thought over the eight week process. Considerations included collaboration between retailers and with the local community as well as integrating online and offline channels, harnessing technology to make shopping easier, quicker and more personal. Whilst the focus was Bangor High Street there is also an evident UK wide application.
Team 'Innovation' pictured here took first prize in the final with their idea to rekindle interest in the High Street by means of an interactive mobile application aimed at connecting people with its history.
Haydn Davies, Enterprise by Design judge and Chair of Bangor Business Forum said of the winning idea:The idea has the potential to transform the High Street by attracting a different clientele which in its own right will increase the footfall and engage businesses. We'll see Bangor in a different light if this comes to fruition'
Eleven postgraduate facilitators worked alongside the teams to encourage them with the evolution of their ideas. Rhi Willmot has participated in Enterprise by Design twice as a facilitator, and also took part in Elop, a transdisciplinary and transcultural programme in Mexico earlier this year. Rhi said "transdisciplinary experiences are so valuable because they expose you to a whole new way of thinking, through sharing different perspectives with your team mates. It has been fantastic for me to participate in Elop and EbD because they are such unique, refreshing experiences which have completely revolutionised the way I think."
Benjamin Simmonds, a first year business student said of the experience: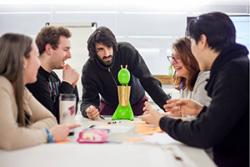 A scene from one of the Enterprise by Design workshops.'Enterprise by Design has given me the ability to see aproblem from someone else's point of view and can help the decision making easier as a team. In the future my aim is to bring other disciplines into my assignments.'
Third year Product Design student, Nia Hogarth, said of the experience 'it has made me more appreciative of my course and more confident in my abilities'.
Postgraduate facilitator, Jac Parry said this of the experience 'I believe the EBD process is a game changer from a design point of view. The advantage of a cross discipline team clearly outweighs that of a singular discipline team. This offers a clear comparison between divergent and convergent thinking. Because of this, my research project has now been opened into new areas ranging from Nudging within Psychology to SME structures within business management.
I couldn't recommend this innovative and prosperous challenge any more, sign me up for next year!
The process took place inside the prestigious new Arloesi Pontio Innovation spaces. As an important new gateway for businesses to access the expertise and facilities available at the university, Arloesi Pontio Innovation provided a fitting backdrop for this industry-led challenge. As a central activity for the centre, Enterprise by Design provides a way to teach students about enterprise while bringing together academics from various disciplines to work on commercial collaborative projects. Each week of the course takes a different perspective whereby individual disciplines in turn have prominence. This transdisciplinary collaboration with input from specialist experts and design-led approach creates an environment where innovative thinking can flourish and this was evident in the final pitches and exhibition.
Dr Andy Goodman, Director of Arloesi Pontio Innovation said "Enterprise by Design and Arloesi Pontio Innovation together provide a new way for businesses and Bangor University to collaborate on solving complex problems. Businesses provide challenges informed by real-world considerations; Academics provide expert knowledge and rigor to support decision making; and students provide fresh eyes and creativity in response to the challenge and by applying their knowledge in practice, they develop skills needed for their future work-life. Everyone benefits. And it's a lot of fun."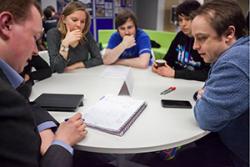 Another team develops their ideas.Academic specialists who contributed were Dr Iestyn Pierce from Computer Science & Electronic Engineering, Dr John Parkinson from Psychology, Dr Siwan Mitchelmore from Business School, Dr Steffan Thomas from the School of Creative Studies & Media, Dewi Rowlands, Aled Williams and Peredur Williams from Product Design School of Education and Dr Andy Goodman, Director of Arloesi Pontio Innovation. Lowri Owen and Ceri Jones from the Careers & Employability Service's B-Enterprising coordinated the project and Pontio Innovation staff provided support to the whole team.
Postgraduate facilitators were Rhiannon Wilmott, Kate Isherwood, Sion Edwards, Sam James, Zehra Merve Okhiz, Leon Joseph Gartland, Suita Manuela Diaz Nolasco, Jac Parry, Lucas Michaut, Bukola Adetonwa and Jo Mearman.
Hear the EbD process explained:http: //www.bangor.ac.uk/bangortv/andy_ebd_explained.php.en
Publication date: 21 March 2016