Historic Medals go under the hammer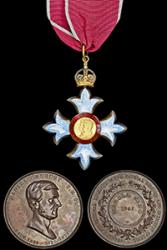 The Medals awarded to Bangor graduate, Harold King, which are to be auctioned.Medals belonging to a pioneering Bangor scientist are to go under the hammer at a world leading auction house this week (Thursday 21 July)
Lot 167 and 168 in the Spink Sale of Orders, Decorations, Campaign Medals and Militaria are medals awarded to Dr Harold King, who graduated in Chemistry from Bangor University (then the University College of North Wales) in 1909.
Dr King is most well-known for his work into the South-American poison curare. Curare has been used for centuries as a paralysing poison by a vast number of the indigenous peoples of South America. Although a well-known poison, the exact mechanism remained an unknown at the beginning of the 20th Century.
King successfully discovered its toxin in 1935 and confirmed the structure in later discoveries. His breakthrough work initially assisted surgical work, but his research eventually led to the development of the first widely available drugs in the fight against hypertension (high blood pressure).
Dr Harold King was a former pupil of Friars School, Bangor. He won several scholarships to assist his study at Bangor University, where he studied under Professor Kennedy Orton.
The son of a schoolmaster, King gained a higher degree from Bangor before working in the Wellcome Laboratories. He then worked for the Medical Research Council, and then the National Institute for Medical Research until his retirement in 1950. He was elected a fellow of the Royal Society in 1933.
His CBE is to be sold alongside his extremely rare Hanbury Gold Medal of 1941, and his Addingham Gold Medal. The Hanbury Medal is awarded "…for high excellence in the prosecution or promotion of original research in the natural history and chemistry of drugs" and reflects the importance of Dr King's achievement.
Dr Mike Becket, Head of Bangor University's School of Chemistry commented:
"As we celebrate another generation of chemistry students graduating from Bangor, it's great to be reminded that the Chemistry Department, though small, has been most influential. King would have been taught by Professor Orton, a particularly gifted scientist, who became a Fellow of the Royal Society in 1921, as did the first five professors of Chemistry at Bangor. In addition to Dr Harold King's discoveries, five of Orton's pupils also became Professors of Chemistry- quite an achievement today!"
The medals are set to be auctioned by Spink & Son, with a combined estimate of £1,600-2,300.
Auctioneer Marcus Budgen said "The achievements of Dr King and the scientific importance of his discoveries make these items extremely rare. We expect a lot of interest in these exceptional awards
Publication date: 13 July 2016