History opens its doors to the public
With manuscripts dating back the twelfth century and a huge range of rare books on display, researchers and historians are in for a treat.
Following recent refurbishment work, the Archives and Special Collections Department at Bangor University will open its doors to the public for an open day on 26th April, between 12 – 4.00 pm.
Come along for a chance to view a showcase of material from the diverse and unique collection of archives and manuscripts, as well as the opportunity to take a behind-the-scenes tour of the archive service.
Every year hundreds of people visit the Archives & Special Collections at the University to undertake research using the collections for a wide-range of academic disciplines.
With the centenary of the start of the First World War approaching, maps and photographs relating to the battle of Passchendaele will be on display as well as trench diaries detailing the harsh life endured by soldiers in the trenches.
Bangor University Archivist, Einion Thomas, said: "Our vast collections will be of interest to anyone with a yearning to learn more about north Wales' rich and vibrant history. Archives staff will be on hand during the open day to help and guide historians to get the most out of our resources."
Entry is free, and light refreshments will be available during the day.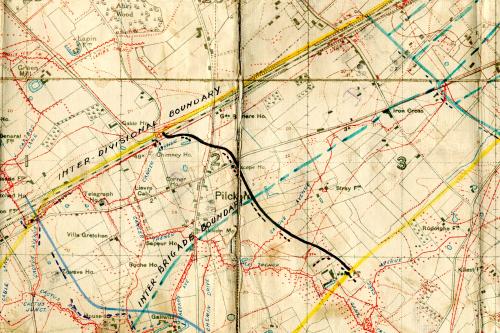 Photo: Official military map showing Cefn Pilkem and Iron Cross where Hedd Wyn was killed on 31st July 1917.
Publication date: 24 April 2013