History Staff and Students discuss NSS Action Plan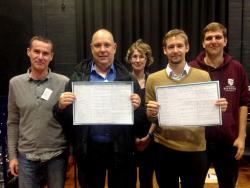 Dr Gary Robinson, Dr Peter Shapely, Dr Mari Elin Wiliam, Max Zeronian-Dalley and Robert Hamlett-Orme at the NSS staff/student conference with the draft Action Plan.
On Wednesday, 9 October staff and students from the School of History, Welsh History and Archaeology met to discuss the results of the 2013 National Student Survey (NSS). This was part of a College of Arts and Humanities' conference to consider the NSS, and to encourage Schools to develop an action plan in conjunction with students.

The student representatives from SHWHA were Max Zeronian-Dalley (Year 2) and Robert Hamlett-Orme (Year 3), and they met with Dr Peter Shapely, the Head of School, along with Dr Gary Robinson and Dr Mari Elin Wiliam from the School's Teaching and Learning Committee.

Dr Shapely noted: "We would like to thank Max and Rob for their very valuable input into the debate, and for voicing student suggestions and comments so effectively. This will enable us to not only produce an NSS Action Plan which is strongly geared towards the student experience, but also assists us in enhancing the already solid relationship between staff and students in the School of History.

History gained an overall satisfaction rate of 92% in the 2013 NSS, placing us 10th in the UK, and whilst we're delighted with this, our focus now is on improving this even further."

History's NSS Action Plan will be completed in November, and will be the subject of further consultation with student representatives throughout the year. In fact, plans are already in place for a staff-student Christmas Party, as well as an information screen in the History corridor, so watch this space for further initiatives!
Publication date: 17 October 2013