History treasure trove opens its doors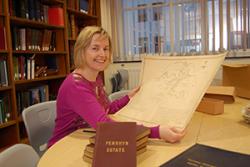 Archivist Elen Simpson with some of the papers from the Penrhyn Estate collection.A treasure trove of local history resources is opening its doors to the public.
Bangor University Archives are holding an Open Day on the 26th of February between 1pm and 4.30pm. Although open to the public daily, for researchers, students, local historians or anyone interested in history to access the documents stored there, the Archive is inviting people in to see just what a wealth of historical resources they hold, and how they may be of interest them. This year's theme is Wales and the world to coincide with the 150 anniversary of founding of the Welsh colony in Patagonia
Visitors will be able to see some of the treasures laid out in the Archive Reading Rooms, these will include photographs and documents relating to the Welsh colony in Chubut and Cwm Hyfryd. Of interest also are minute books relating to Welsh missionaries in the Khasi hills in India in the nineteenth century.
As well as caring for and storing documents relating to the University's own history, the archive has other document collections and also holds documents deposited with them on loan for safe-keeping.
The one thread that links the entire collection, which includes documents dating back as far as the 12th century, is their relevance to the history, people and topography of north Wales. However, their subject areas are wide ranging and are of national as well as local historical interest.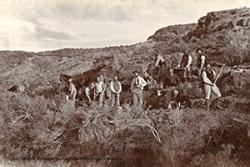 2. A group of Welsh migrants to Patagonia building a road in 'Hafn y Mynach' Cwm Hyfryd, 1888."Among the documents available to be researched or read for whatever purpose, are papers relating to personal and family archives, farming and agricultural records and records of a political nature. These all provide fascinating insights into the daily lives of people in Wales, and are a unique resource," said archivist, Einion Thomas.
The University's own records cover a century between the establishment of the University in the 1880's, to the 1980's and include everything from early minutes, and student records, photographs, postcards, and other printed ephemera. They deal with a range of subjects from the University buildings, to clubs and societies, concerts, strikes and protests.
The Archive also boasts the best collection of estate and family papers in Wales as well as other collections of papers from university professors and lecturers, historians, antiquaries, farmers, businessmen and ministers.


Publication date: 18 February 2015