Honorary Fellowships awarded for services to Business
Two individuals who have made lifetime contributions to business joined Bangor Business School's graduating postgraduate students on Tuesday to be recognised for their work through the award of Honorary Fellowships.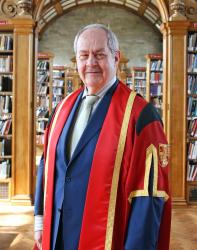 Professor Constantinos Grammenos CBE
Professor Constantinos Grammenos CBE, himself a Bangor Business School graduate, is a leading expert in international shipping and Finance. He established the International Centre for Shipping Trade and Finance at City University's Cass Business School, which has been renamed the Costas Grammenos Centre for Shipping Trade and Finance in his Honour.
Following a Greek degree in Politics and Economics, Professor Grammenos studied his MSc in Financial Economics at Bangor University. A leading academic at City University, his shipping finance policies have been applied by most international banks. He has served as Pro Vice-Chancellor and Deputy Dean at his University and holds numerous honorary and executive positions.
Kailesh Karavadra was born in Uganda and came to Britain as a refugee. He was awarded an Honorary Fellowship for his services to Business. Mr Karavadra chose to study at Bangor University over Oxford University and graduated with BSc and MSc degrees in Electronic Engineering, while taking additional accounting and financial modules. He joined Ernst & Young in the early 1990s before transferring to their San Jose office in 1995. He is based in Silicon Valley and has progressed to the senior position of Managing Partner West Region Growth Markets. Kailesh has worked with clients in the U.S., Europe and Asia, as an accountant and an adviser. He has served some of the firm's largest global clients in areas ranging from business strategy to system security risks and business process controls. He is very co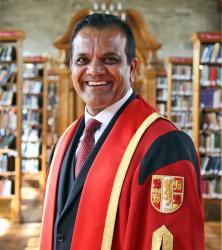 Kailesh Karavadra mmitted to volunteering with several charities. Kailesh has remained a loyal ambassador for Bangor University and is very proud of his status as a Bangor alumnus.
Publication date: 20 July 2017