How machine learning is improving English cricketers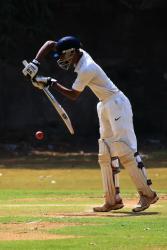 Innovative machine learning may seem light years away from first class test cricket, but it was the introduction of machine learning which enabled experts at Bangor University to reveal to the England & Wales Cricket Board (ECB) the factors which can lead to developing county or international world-class cricketers.
Having gathered detailed and multifaceted information on over 1000 factors believed to be important predictors within a player's journey to elite or super elite cricket; whether they become a County or international player, experts at Bangor University's Institute for Psychology of Elite Performance worked with computer scientists at the University to number-crunch the vast data-set.
The results revealed that a crucial combination of only 18 factors can determine talent development.
Dr Gavin Lawrence of the School of Sport, Health & Exercise Science explains:
"Anecdotal and scientific evidence suggests that it takes 10,000 hours of deliberate practice to reach expertise. Unfortunately, what this evidence can't tell us is exactly what type of practice do we need to undertake and when? As a result, there could be hundreds or even thousands of aspiring cricketers practicing the wrong stuff at the wrong time.
"Until now, science has not been able to answer these questions. But recent advances in complex machine learning has made it possible for us to collect and analyse a vast array of data in order to help shed light on what practice is important and when you need to do it if you want to become super elite.
"For example to become an elite cricketer, our data reveals that you need to have engaged in large volumes of highly challenging and varied practice by the age of 16, but you need to have done even more of this to become a super elite cricketer. This challenges the traditional view that young cricketers should face tempered and predictable deliveries in order to practice repeated rehearsals of shot techniques.
Dr Ben Jones, who recently gained his PhD having worked on the project added:
"The findings highlight that greater exposure to challenging scenario-based practice, more representative of a game situation, distinguish future super-elite (international) batsmen from their County peers relatively early in development."
This is one of only 18 factors revealed.
Work is now ongoing to ensure coaches, talent scouts, academy staff alike are aware of the 17 other factors that 'make a difference', in conjunction with planning how they might help develop those factors in young and aspiring cricketers.
All this new science will help better inform the development of cricketers.
The ECB have a 15-year record of collaboration with Bangor University's School of Sport, Health & Exercise Science. This is one of a number of joint research projects to increase science and evidence-based practice within cricket, and is part of a wider push from the ECB to reduce the performance gap between clubs at the county and national level. It is another example of the type of research impact activity that saw the School of Sports, Health & Exercise Sciences ranked 7th in the UK in the most recent government led Research Excellence Framework.

Publication date: 2 September 2019