Impressive turn out for Student Christmas Market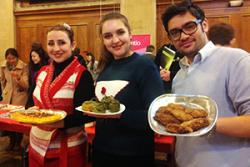 PJ Hall opened its doors to over 1,000 customers from across the university as well as the wider community for its fifth annual Student Christmas Market. Visitors took the opportunity to purchase unique handcrafted products and last minute gifts and stocking fillers. Many items had a Welsh or international theme and some stalls were sold out within a couple of hours.
Around 110 students from across Bangor University and Grwp Llandrillo Menai took part in the running of over 50 stalls. Some of those participating had taken part in the supporting workshops on 'How to Price' and 'How to Sell your goods or service' which was run by a lecturer trained in the Mary Portas School of Retail. Taking active part in these events and supporting workshops affords students the opportunity to exercise their creativity and develop enterprise and employability skills such as planning, selling and pricing, communication skills and so on. Student stallholders can earn 15 BEA xp for taking part.
Live music was, this year, provided by Bangor Music Society Choir and the Bangor University Folk Society.
B-Enterprising was delighted to have been able to offer stalls to some student societies such as the Dance Society, the Farm Society, the Craft & Sewing Society and others who were able to raise money for their society budget.
Many stall holders donated some or all of their profits to charities including Bangor Women's Aid, Coppafeel! and Cancer Research UK. Also this year, Jacob Heywood an 11 year old boy from Ysgol Friars held a stall to raise awareness and funding for dyslexia – a cause very close to his heart as he suffers from the disorder and wants to help others in the same position.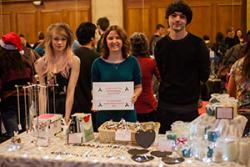 Lily Taberner shared the Best Stall prize, here with Eirian Jones and another stallholder.The prize for the Best Stall was shared between Philip Madong and Lily Taberner and these were judged by Becky Ryan and David Pritchard from the Careers & Employability Service.
Philip Madong said: "Taking part in the student Christmas market was very exciting for me as I hadn't done something like this before. I am from South Sudan and an MSc Agroforestry student in SENRGY and one my lecturers runs a charity supporting orphaned children in Kenya so I offered to do a fundraising stall at the Christmas market to raise money for school fees and text books. We sold jewellery made in Kenya and by us in Wales. I attended the B-Enterprising workshop on 'How to sell' and this really helped me know how to present the jewellery in a nice way on the table, using attractive colours, lights and putting items at different heights. We won a prize for the 'best presented stall' and raise £167 in donations thanks to this valuable advice!"
To see the work being supported in Kenya, visit the charity website.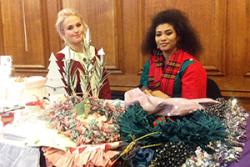 The University's Director of Student Experience, Maria Lorenzini, said of the Market 'This is the fifth successive Student Christmas Market held in the University and it has gone from strength to strength in both its quality and diversity of merchandise. It's fantastic that we have so much entrepreneurship and creativity existing amongst our student body and I'm grateful to all who have given their time and expertise to make this such a wonderful event'
The B-Enterprising team would like to thank everyone who gave their time and expertise to the market to ensure its success.
Bangor University is part of a N W Wales Regional Hub which is one of six regional hubs established by the Welsh Government to drive its commitment to encourage youth entrepreneurship in Wales
Publication date: 19 December 2014