Industry partnership broadcasts Wolf's howl far and wide
An 18-month partnership between resident ensemble at Venue Cymru and Bangor University, Ensemble Cymru and television company, Cwmni Fflic (Fflic Company) is on course to significantly raise the profile of classical music for family audiences across Wales.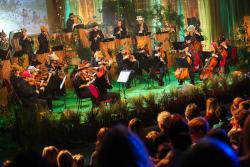 The project lead by Ensemble Cymru and featuring a Welsh language adaptation of Prokofiev's Peter and the Wolf with the voice of actor Rhys Ifans (Notting Hill, The Amazing Spiderman, Harry Potter and the Deathly Hallows) will see the release of the Ensemble's first CD (conductor Paul Watkins), a series of programmes for S4C television over the Christmas break and a production for a live tour in March 2014.
The project has continued to develop following Ensemble Cymru's success in raising £15,000 through the Big Give with major support following from the Lottery, Arts Council of Wales, Patsy Wood Trust and the Colwinston Charitable Trust.
Ensemble Cymru's Artistic Director and Executive Officer, Peryn Clement-Evans said;
"When we started planning what was essentially a recording project, I would never have dared to imagine that five years later we would be on course to bring music we have a passion for to so many children, schools and families across Wales. I have valued hugely the sense of collaboration and creativity through our work with Cwmni Fflic. I know the Ensemble has gained immeasurably from the experience."
Beca Evans, Producer for Fflic Television said:
"It is very important to push the boundaries and remove prejudices about orchestral music- it is not elitist-it appeals to everyone of all ages and backgrounds. It is very important to television companies such as Fflic to collaborate with companies and charities such as Ensemble Cymru- two worlds merging to create a work of standard that's both memorable and inspiring."
Broadcasts on S4C (Welsh language Channel 4) over the Christmas period will include a documentary on the making of the recording of Prokofiev's Peter and the Wolf; a series of introductions to different sections of the orchestra (music - Gareth Glyn; presenter Welsh children's character Dona Direidi; and a live performance of Prokofiev's Peter and the Wolf (voice - Rhys Ifans; Images - illustrator Marc Vyvyan Jones.)
For further information on the scheduled broadcasts and tour dates please visit www.ensemblecymru.co.uk.
Publication date: 17 December 2013