Innovation Station Success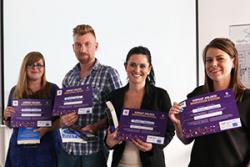 The successful Innovation Station team comprising: Mererid Haf Gordon, Jonathan Burke, Analisa Salamanca and Stacey Faughnan.Twelve Bangor and Grwp Llandrillo Menai students were taken on a two day journey exploring the process of business startup. This year's programme took a fresh approach from previous start up schools, focussing more on the behaviours and activities associated with business creation through experiential tasks.
The 'Innovation Station' event kicked off with student 'passengers' being welcomed aboard and pitching themselves to other participants to form teams. Day one featured inspiring videos, practical help, a session on idea generation and developing an 'elevator' pitch where teams demonstrated both bad and good pitches. Students were also introduced to a trade-up task based on the Kyle McDonald 'Red Paperclip Challenge' whereby a paperclip is repeatedly exchanged for items of increasingly higher value.
Day two invited discussions on the function and use of social media and looking at the practical steps to business startup including standing in customers' shoes and communicating USPs.
The emphasis throughout was on self-reflective learning so that participants came away with an awareness of how they have developed and how to apply what they've learned going forward.
Both teams pitched their ideas to a Dragon's Den. Teams were judged according to criteria of idea feasibility, competition and market research, pitching skills, teamwork and wow factor. The judging panel comprised Diane Roberts University Relationship Manager, Santander Universities, Dr Andy Goodman of Pontio Innovation and Emlyn Williams from Bangor City Council.
Analisa Salamanca, from the winning team, who has just completed a degree in Business and Management said of the experience 'Although I have been challenged at college, I also became comfortable and safe with my colleagues and tutors, whereas, at 'innovation station' right from the moment I walked through the door I was completely out of my comfort zone but dealing with this helped me to gain confidence. Winning the pitch in front of the team of experts gave us a true insight of the how well prepared one has to be in order to start a business. Not only did I challenge my weaknesses and overcome my fears but my weaknesses have now become my strengths'.
Eirian Jones said 'the students attending seem to have gained a lot from the experiences of the two days. It helped those who want to develop business ideas to realise that they need further support. B-Enterprising can continue to support them in developing their ideas.'
The event was facilitated by Tim Ashcroft, Chris Walker and Eirian Jones.
Students earn BEA xp for taking part in this and all B-Enterprising coordinated activities.
These competitions were organised on behalf of Bangor University by B-Enterprising which received funding through the North West Wales Regional Hub.
The North-West Wales regional hub is part funded by the European Regional Development Fund and the Welsh Government to support delivery of the Youth Entrepreneurship Strategy (YES) for Wales.
Publication date: 6 July 2015