International students settle in to Bangor
The International Student Support office collected a record number of international students on its airport pick-up service from Manchester this September.
Twelve coaches and dozens of staff and student volunteers were on hand to meet students at the airport and then help them with their luggage on arrival at Bangor – the Students Union were also busy ferrying new arrivals to their accommodation throughout Bangor with their fleet of minibuses, with Bar Uno being used as a hub for food, entertainment and socialising on the day.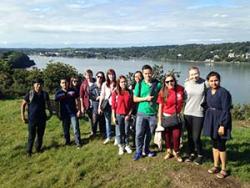 Some 400 international students then received a bespoke orientation programme which took place the week prior to the University's central Welcome Week – thereby ensuring they were geared up for the busy welcome programme ahead. This early orientation programme included bus and walking tours, a trip to Snowdonia, a lecture on Welsh history and culture as well as a bingo and 'twmpath' Welsh folk night!
To all our international students – we hope you enjoyed the welcome events and all the best for a happy and successful time at Bangor!
https://www.instagram.com/bangorinternational/
Publication date: 23 September 2016