Introducing 'Active Support' for pupils with Intellectual Disabilities and Autism to local teachers
125 staff from Antur Waunfawr, Ysgol Hafod Lon and Ysgol Pendalar joined with academic staff from Bangor University's School of Education and Human Sciences recently for a training event providing an introduction to 'Active Support'.
'Active Support' is a staff training method aimed at enabling people with learning disabilities to engage more in their daily lives. Staff trained in this method will then aim to increase the engagement levels of clients continuously throughout the day, in turn improving the quality of life for those individuals.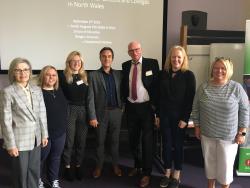 The School of Education's Collaborative Institute for Education Research, Evidence and Impact (CIEREI) hosted the event to show how 'Active Support' can be adapted and used in a classroom environment. Leading the training day was world-class expert in the field, Prof. Sandy Toogood.
PhD student Ceridwen Evans, who organised the training event explains:
"So far, Active Support has typically been tested in residential settings housing adults with living with a learning disability who have more complex and severe needs. However, anecdotal evidence and a few small studies have suggested its potential effectiveness of implementation in special-school settings."
As well as sharing the theoretical overview and practical experience of Active Support, the training showed how best to enrich the classroom environment and how staff can prepare and adapt their own behaviour in order to maximise engagement levels within pupils.
Ceridwen added:
"The day's collaborative planning also reflected the need for 'equal expertise from all stakeholders' when designing training events and interventions within school settings (whether mainstream or special education); including expertise from those teachers and staff working directly with the pupils themselves. "
Ceridwen Evans' research will now progress to implementing school-adapted Active Support into both Ysgol Hafod Lon and Ysgol Pendalar classrooms.
Ceridwen'sresearch scholarship is part-funded by Antur Waunfawr, Ysgol Hafod Lon and Ysgol Pendalar; and is majority funded under the Knowledge Economy Skills Scholarships (KESS) Programme. KESS is a major European Convergence programme led by Bangor University on behalf of the HE sector in Wales. KESS II is part-funded by the Welsh Government's European Social Fund (ESF) Convergence programme for West Wales and the Valleys, KESS II supports collaborative research projects (Research Masters and PhD) with external partners based in the Convergence area of Wales (West Wales and the Valleys). Both the Research Masters and PhD elements are integrated with a higher-level skills training programme, leading to a Postgraduate Skills Development Award. KESS 11 will run until 2022 and will provide 600+ PhD and Research Masters opportunities across Wales.
If you would like to find out more about this research, or more about the event itself, please contact Ceridwen Evans on ceridwen.evans@bangor.ac.uk.
Publication date: 12 September 2019