Introducing the new Head of School
Professor Enlli Môn Thomas has been announced as the new Head of Bangor University's School of Education.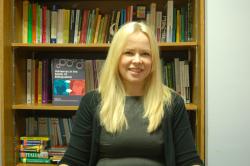 Professor Enlli Môn Thomas, the new Head of the School of Education
Professor Enlli Mon Thomas joined the University in 1999 as a postdoctoral researcher in the School of Psychology. She moved to work in the School of Education in 2007 and became senior Lecturer in 2012. The focus of her research is primarily on children's acquisition of Welsh and Welsh-English bilingualism, from a psycholinguistic, sociolinguistic and applied educational perspective. She has substantial track record of peer reviewed research articles and book chapters, many as lead author, published in internationally significant journals, and extensive involvement in grant capture. She is also lead editor of Advances in the Study of Bilingualism and is currently working as lead author on a co-authored book.
Publication date: 23 February 2015