Jamaican High Commissioner visits Bangor University
Bangor University hosted the Jamaican High Commissioner recently (15 August) during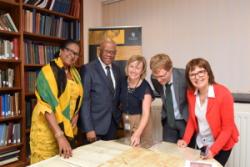 Dr Lola Ramocan, His Excellency Mr Seth George Ramocan, Elen Wyn Simpson, Archivist, Shaun Evans, Institute for the Study of Welsh Estates (ISWE) and Dr Marian Gwyn, ISWE Research Associate, inspect documents from the Penrhyn Collection.'s historic visit to Wales. HE Mr Ramocan is the 13th Jamaican High Commissioner (HC) to the UK since Jamaica gained its independence in 1962 and is the first HC to officially visit Wales.
Starting in Cardiff with a meeting of Windrush Generation elders, HE Mr Ramocan then visited areas of the capital city that have historic ties with Jamaica, before heading north to Bangor. Here, the High Commissioner was formally welcomed to the University by the Vice-Chancellor, Professor John G. Hughes and was then given a presentation of the University's Penrhyn-Jamaica Papers, stored and collated as part of the University's Archives and Special Collections. These include maps and documents relating to the Penrhyn Estate's vast sugar plantations in Jamaica and its role in slavery on the Caribbean island during the 18th and 19th centuries.
HE Mr Ramocan then visited Penrhyn Castle, the ancestral home of the Pennant family, and was given a tour of the building and grounds. A civic reception then followed at Bangor City Council's Penrhyn Hall, where discussions on current and future links between north Wales and Jamaica took place.
Following the High Commissioner's visit to the University, Vice-Chancellor Professor John G. Hughes said:
"It was a pleasure to welcome His Excellency Mr Ramocan to the University and to show him and his delegation some of the papers and maps held by our Library and Archives Service. They are vital records of a time when this region had an inglorious relationship with Jamaica – a relationship that has now, thankfully, been redressed towards the positive."
Publication date: 15 August 2018