'Journey to the Past' provides contemporary tourists with an unusual perspective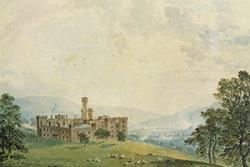 Cyfarthfa Castle, home of the Crwashays, owners of the Cyfarthfa Ironworks, Merthyr Tydfil,: © Crown Copyright RCAHMW.A new website giving modern tourists insights from past visitors to Wales from France and Germanywas launched at Bangor University today (24 May).
Lord Elis-Thomas, Minister for Culture, Tourism and Sport, was present to see the new website http://footsteps.bangor.ac.uk/en/index, the fruit of a project led by Bangor University that includes the University of Wales Centre for Advanced Welsh and Celtic Studies working alongside the Royal Commission on the Ancient and Historical Monuments of Wales and Visit Wales. This follow-on funding for impact and engagement was received from the Arts and Humanities Research Council.
Commenting on the website, Lord Dafydd Elis-Thomas, said:
"This is a fascinating resource which uses the best of modern digital media to enrich our own understanding of ourselves and our history as well as providing an extra historical perspective for tourists to Wales. I am delighted to see that this has been the result of combining the academic expertise to access these historical accounts of Wales, with the rich historical and cultural resources that we have available to us."
The website enables people to travel in Wales in the footsteps of historical travellers from France and Germany, be they visitors from those countries, or home tourists who wish to see Wales through French or German eyes. It is available in four languages - English, Welsh, French and German – for digital tourists everywhere. The team have selected striking descriptions of Wales from French and German travelogues, translated these into English and Welsh, and organized them into nine thematic trails through Wales. Themes such as: slate, landscape, the coast. By clicking on a specific location or attraction you will find information about that place in four languages, a gallery of pictures and digital material (such as 360° tours, animations), as well as the selected descriptions from the original travelogues.
Professor Carol Tully, of the School of Modern Languages, who lead the whole project said:
"We really hope that these resources will give visitors to Wales, and our own 'staycationers' a different perspective on their visit by enabling them to access the views of past travellers, who viewed Wales from a European perspective.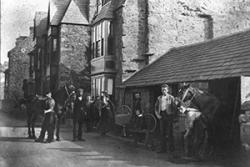 A street scene.: © Crown Copyright RCAHMW.The whole project has been an enriching journey- and we found far more material than was expected. This additional tourism website is a bonus, and I'd like to thank everyone who has contributed to the whole project."
Some locations have received special attention, for instance a film was commissioned on Merthyr Tydfil, based on the original travel texts, and is available here in four languages: – https://www.youtube.com/watch?v=VEe2x2DqYwk this makes it also a resource for modern language teaching in Wales, supporting the 'Welsh Curriculum' in French and German lessons.
Journey to the Past gives a new insight into the history and culture of Wales by combining historical sources with new technologies. The researchers of the 'European Travellers' project have combined combining their expertise about the history of travel writing in modern European languages with the Royal Commission's archival resources concerning the history and built environment of Wales. As part of this collaboration, the Journey to the Past team have created new translations of historic travel descriptions in French and German and commissioned the digitisation of material held in the special archives and collections of the Royal Commission. In addition, the team have produced new digital resources, such as 360°-Gigapixel tours and videos for selected locations across Wales. New digital reconstructions of
Scott Lloyd, (RCAHMW) Heather William (CAWCS) Susan Fielding, RCAHMW, Prof John G Hughes. Vice-Chancellor, Prof Carol Tully, Lord Dafydd Elis-Thomas & Rita Singer, Honorary Research Fellow, Bangor University towns and buildings, a video detailing the industrial heritage of Merthyr Tydfil (produced by Treehouse Media) and a Virtual Reality experience of Tintern Abbey during the Romantic period (produced by Luminous) complete the Journey to the Past experience.
Publication date: 24 May 2018