Keeping you in the Legal Loop: Law graduates launch news website
Two Bangor University graduates have launched a legal news and study aid website aimed at the next generation of lawyers.
Launched on 1st October, Legal Loop is described as a one-stop online resource for keeping up to date with the latest legal developments in the UK. Although open to anyone with an interest in the law, students in particular will benefit from a wealth of free resources designed to see them through their law degrees.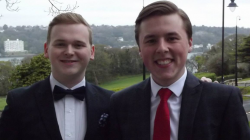 Bangor graduates Aaron Clegg (left) and Adam Gulliver have launched Legal Loop, a legal news and study aid website
The site is the brainchild of Bangor alumni Adam Gulliver and Aaron Clegg, who graduated from Bangor Law School in 2014 and 2015, respectively. Their own experiences of studying Law have been integral to the site's development. "We asked ourselves what we would have liked access to as students, and how we could fill that void", explains 22-year-old Aaron, currently working as a paralegal at a top UK law firm. "I recall finding it difficult at times to keep up with the big issues going on in the legal world, as it can change rapidly in a very short space of time. Our idea was to look at everything that's going on, break it down in a user-friendly way, and provide a place where people can spend 5 or 10 minutes and leave feeling like they know what's going on."
As well as providing a daily news fix, the duo, who were crowned mooting champions of Wales in 2014, have high hopes that Legal Loop will become the go-to study tool for UK law students. "We're currently working on a dedicated section of the website which will act as a bible for law students", says trainee Barrister Adam, 22. "We want to help students with whatever they might need, be that how to approach assignments and exams, or how best to crack on and win that mooting competition that's coming up.
"We'll also be producing high-quality, extensively researched and revised academic reference notes to help students get their heads around the modules of a qualifying law degree, all for free."

Ensuring that the site addresses the needs of law students is imperative to Adam and Aaron, and they have already recruited a team of student representatives from universities across the UK. "We really think that we can offer something to students that isn't already out there, and so we want to make sure that we can reach as many students as possible", comments Aaron. "We are working towards having a representative in every single law school in the UK – these representatives are invaluable because they provide a direct line of contact to the students in that particular university. This lets us hear first-hand exactly what people want to see, and it really helps us remain flexible and constantly moving forward."
The pair have big plans for the future of Legal Loop, but their focus for now is ensuring that the new student section of the website is up and running by Christmas, just in time for the January exam period.
To access Legal Loop, visit www.legalloop.co.uk, or follow the site on Facebook and Twitter.
Publication date: 23 October 2015