King Arthur Fun Day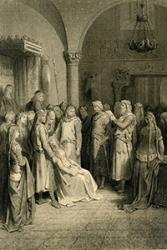 An image from one of the Library's Arthurian collection.We all love a re-telling of the Arthurian tales and legends, whether in a book or a film. Bangor University is extending the experience to a King Arthur Fun Day full of storytelling, re-enactment, fun and games.
Saturday 27th June is your opportunity to take part in the King Arthur Fun Day. As well as listening to English and Welsh story-telling, you can watch re-enactments and try on armour and 'dress up' as a knight. With the events free of charge and taking place at the University's Main Arts Library between 1.00- 4.00 pm, other activities include a performance of a short excerpt from the Mabinogion, an exhibition of rare books, a talk about medieval manuscript book making, arts and crafts, a treasure hunt culminating in finding the Holy Grail, and much more!
Organised by Bangor University's Library and Archives Services and the School of English Literature, with support from the University's College of Arts and Humanities and Widening Access, the Fun Day celebrates the long and distinguished tradition in scholarship, teaching and community engagement in the appealing area of Arthurian literature. The Fun Day also draws on the newly combined collections of books on the Arthurian legends from the Bangor and Flintshire Harries collections.
Dr Raluca Radulescu, who leads Arthurian Studies at the University said: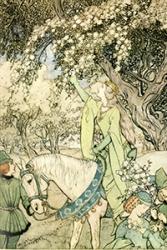 An illustration by renowned early 20th century illustrator Arthur Rackham.'It is a great pleasure to be able to organise an event on this scale, involving the community and so many enthusiastic members of staff. Much thought has been put into the day, and there will be plenty to instruct, entertain and educate both adults and children. We look forward to welcoming staff, students and the local community into the Main Library for a few hours of King Arthur fun!'
Shan Robinson from the Library and Archives Service added:
"It is really important to open up our wonderful collections to everyone and this event will showcase the Arthurian Collection. We also wish to provide an opportunity for the public to experience a performance, by some of our talented students, of the Mabinogion, which is due to be staged at the Edinburgh Fringe Festival later this August."
More events are planned for the autumn, with a collaboration with Caernarfon castle and local schools currently taking shape.
Publication date: 11 June 2015