Law graduate scoops prestigious sporting prize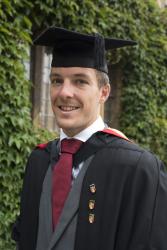 Benjamin PritchardBangor University's Sport and Leisure department have awarded this year's Llew Rees Memorial Prize to Law student Benjamin Pritchard. Ben will be graduating this week with Bachelor of Law degree. Ben is a triathlete from Swansea but he is also involved with several other AU clubs, including being the Vice Club Captain of Men's Hockey, Event Organiser of the Road Cycling Club, and a varsity member of Bangor Swimming team.
During the past two years Ben has competed in several competitions, including the 2012 Llanrwst Sprint Triathlon, where he finished 3rd place in the 20-29 age group. Also in 2012 Ben qualified to represent Great Britain at the European Age Group Sprint Triathlon Championships in Turkey. He will be representing Great Britain in the competition again this year, Ben says 'The prize money will help greatly towards any cost that needs to be covered in the process of training, acquiring specialist clothing equipment and kit, travelling and most importantly competing.'
Ben has set many personal goals for himself this year but his main aim is to finish top 50 in the European Championships. His secondary goal is to achieve a high finish within the Welsh Grand Prix series; this will then hopefully enable him to compete in the British Super Series for Elite Triathletes. He has set several AU goals including gaining enough British Cycling points to represent Bangor University Cycling team in the BUC's Road Race. Ben says 'I also have the goal of developing and enhancing my triathlon capability; utilising the experience of representing my country to enhance future academic exposure acknowledging the support provided by Bangor University in its provision of training facilities. A cash injection of this magnitude will go a long way in supporting me to reach my targets and enable me to compete to the best of my ability.'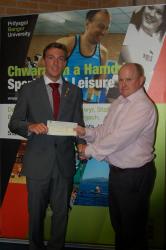 Ben receiving the Llew Rees AwardOver the years Ben has worked hard to raise the profile of Bangor University sport. Being a member of many sports club committees has allowed him to foster good relations between different sports and broaden the minds of many athletes to take part in new activities. Ben has acted as a voice for the clubs, by taking an assistant role in the AU Campaign, listening to ideas from club members and ensuring that their views are heard. He also competes regularly in Bangor University Colours, acting as a role model and protecting Bangor University's good name and reputation.
Ben is currently in the process of setting up an AU triathlon club. He hopes that this will encourage more students to take part in the sport, and that the people who run the club will be able to pass on their knowledge and experience to produce new successful triathlon athletes.
Publication date: 12 July 2013