Law student Alex wins first court case BEFORE graduating
A Bangor University student who endured discrimination at work took her former employer to court and won – before even finishing her Law degree.
Alex Gibson, from Bangor, chose to study Law after suffering disability discrimination and harassment at her former workplace.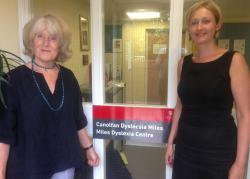 Law graduate Alex Gibson (right), pictured with Liz Du Pré of Bangor University's Miles Dyslexia Centre.
Determined to take the company to court but unable to afford the legal fees, Alex decided to represent herself for the duration of the case. And last year, after a two and a half year legal battle, she won her case.
To top off her achievement, Alex, who also has dyslexia, will this month graduate from Bangor with a First Class degree in Law.
Alex's story started in 2008 when she was involved in an accident which left her with an arm disability. Following numerous operations, she was finally able to return to permanent work in 2010. But in her new workplace, she was subjected to discrimination and harassment for both her physical disability and dyslexia. So traumatic was the experience that Alex resigned from her job and made several life-changing decisions.
Determined to fight for justice, Alex decided to take her employer to court, acting as her own solicitor and barrister. The discriminatory treatment gave her a desire to learn more, with a particular view to protecting herself and others; and in 2011, she enrolled on the two-year LLB programme at Bangor.
Starting university presented a much bigger challenge for Alex than most. Just days before beginning her course, and still fighting her legal battle, Alex had left hospital following pioneering surgery on her wrist, which she had elected to undergo in order to reduce the physical appearance of her disability. However, the support she received from the university helped make it possible. "It would not have been possible for me to attend had it not been for the support of the personal assistants organised for me by Student Services", she says. "I attended lectures with a note taker, had my essays proofread by the university's Miles Dyslexia Centre and had a scribe to whom I dictated my exams. Now, I am graduating with First Class Honours." Alex also lauds the support she received from staff within the Law School itself. "The lecturers have been fantastic and supportive, and having practically lived in the library for the past two years, I must say that the Law Librarian, Mairwen, has been fantastic too."
Alex originally enrolled at another university in 1996, but gave up after failing her first year and finding a lack of support. "Since then, there has been much more research conducted into dyslexia, and the support I have had from Student Services and the dyslexia team at Bangor has been outstanding. They helped me understand my condition better than anyone else had done before, and gave me the confidence to achieve what I never thought possible – my Law degree.
"Intelligence isn't affected by dyslexia and nowadays, there aren't any barriers to education. Studying at Bangor has given me the strength and the confidence to do almost anything."
Publication date: 24 September 2013