Leading design 'fixer' among those at Bangor Design Conference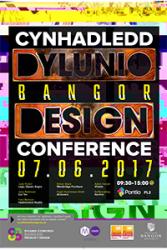 An innovative and inspirational Product Design Conference will bring some of the best leaders and thinkers in the field of Design and Manufacturing together at Bangor University on June 7th 2017.
The conference, which is organised by the University's School of Education and is in its third year, will include talks by award winning product design engineer Jude Pullen from the BBC series 'The Big Life Fix' and Fred Manson (International company, Thomas Hetherwicks). Also, sharing their experiences at the conference will be Bangor University design graduates, Ed Beardsley and Hugh Smith, who are both currently working in the industry. The conference will conclude with the official opening of the Degree Show which will showcase the work of current Bangor design students.
Reflecting on last year's conference, Bangor graduate Jordan Burns commented:
"It was a pleasure to re-visit the institution which helped to develop me as an Industrial designer and keen observer of all things design. Personally it is great to be able to give something back to Bangor University and hopefully inspire other students to realise their aims of making it within the design industry."
The event will appeal to anybody working in or interested in all aspects of design and manufacturing. The conference and degree show promises to motivate and inspire those interested in the field of design, and to share best practices within the industry as well as strengthening contacts between the university and design and manufacturing companies -many of which already work in partnership with Bangor University giving design students work placements as part of their degree programme.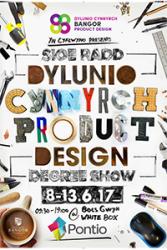 Peredur Williams, event organizer and Product Design lecturer at the School of Education commented on last year's event:
"Last year's Design Conference was a resounding success. Listening to so many experts in their fields discussing and sharing their experiences was great motivation, not only for our students, but for everyone who attended. We are pleased to offer the same platform for our alumni and experienced practitioners again, not only to find inspiration but also to gain real-world insight into the processes within manufacturing and design."
The Bangor Design Conference, 7.6.17 is on at PL2, Pontio between 9.30am-3pm For further information and to register to attend e-mail i.p.williams@bangor.ac.uk
The Degree Show runs at Pontio's Arts & Innovation Centre between 7.6.17-13.6.17 and is open to all and free of charge.
Publication date: 24 May 2017