Lecturer Alys Conran's debut novel named Wales' Book of the Year 2017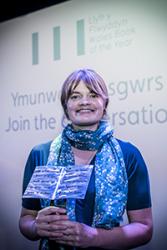 Alys Conran with the Welsh Book of The Year Award 2017: © Llenyddiaeth Cymru / Camera SionedCreative Writer and Lecturer Alys Conran is the stand- out winner at this year's Wales Book of the Year/ Llyfr y Flwyddyn, winning a hat-trick of Awards, scooping not only the one of the main prizes, the English Book of the year Award, a specially commissioned trophy designed and created by the artist Angharad Pearce Jones, and a £4000 prize, but also winning the Rhys Davies Trust Fiction Award English fiction Award and the People's Choice Award, all for her debut novel Pigeon.
Published by Parthian, Pigeon, a tale of childhood memories, is also unique in having been published simultaneously in English and Welsh, with a translation, Pijin. by Siân Northey.
Congratulating Alys Conran on her achievement, Andrew Webb, Head of the School of English Literature commented:
"This is wonderful news for Alys and thoroughly deserved recognition for her brilliant first novel Pigeon, which is set in north Wales. Alys is also a brilliant lecturer on the Creative Writing programme, we value the teaching and guidance of people who are themselves creative writing practitioners. This recognition underlines, were it necessary, just how outstanding Alys' work is,"
On behalf of the judging panel, Jonathan Edwards said: "This year's winning books are a real celebration of just how exciting, vibrant and diverse literature in Wales currently is. These writers are great talents who have succeeded in proving that Wales is a world-class contributor to literature."
The Awards were run by Literature Wales, on behalf of the Welsh Arts Council. The English language judges were author Tyler Keevil, academic; Dimitra Fimi and poet, Jonathan Edwards. The winners of each category received £1,000, while the overall winner received an additional £3,000.
Pigeon is the tragic, occasionally hilarious and ultimately intense story of a childhood friendship and how it's torn apart, a story of guilt, silence and the loss of innocence, and a story about the kind of love which may survive it all.
Pigeon, which has received positive reviews from readers and critics alike, was one of 12 books by writers under 40 longlisted for the International Dylan Thomas Prize 2017. Her work has also been shortlisted in a number of other Awards including the Bristol Short Story Prize and the Manchester Fiction Prize.
Originally from North Wales, Alys spent several years in Edinburgh and Barcelona before returning to the area to live and write, she speaks fluent Spanish and Catalan as well as Welsh and English. She has developed projects to increase access to creative writing and reading in North Wales.
See also: https://www.bangor.ac.uk/english/events/the-launch-of-pigeon-a-novel-by-alys-conran-27363
Publication date: 14 November 2017