Linguist wins top University Prize
Roz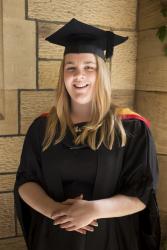 Rozzen Graingerzen Grainger, who has graduated with a degree in French, German & Italian from Bangor University was awarded one of the University's top Prizes. She was awarded the Dr John Robert Jones Prize which is awarded to three of the best graduates across all subjects at the University, and received a Prize of £1,000.
Rozzen, who comes from Newton Abbot and previously attended Coombeshead College in Newton Abbot, said it felt "Pretty damn good" to be graduating.
She came to Bangor on the recommendation of her brother who graduated from the University in 2010, having also studied Modern Languages. He spoke so highly of Bangor University that he convinced her to come, though she had previously begun and left a course at another University.
Studying French, German and Italian, she spent a year abroad, spending a semester each at universities in France and Italy and a nine month placement in Berlin as part of her degree course - Bangor being the only University in the UK where she was able to do this.
"I've had an absolutely fantastic experience at Bangor University" she said. "In large part this has been due to the personal support that I received from my personal tutor Dr Laura Rorato and the School of Modern Languages in general."
"I threw myself in to University life," says the 27 year old. "I did loads of volunteering with the student support phone-line Nightline and was Secretary and Treasures of LangSoc and was a Hall warden in my final year.
I'm not sure how I fitted it all in with my studies. It was challenging and involved time management, but I think that once you take something on you have to see it through- but I enjoyed every minute!
"I'm now going to study an MA in Conference Interpreting and Translation Studies at the University of Leeds. "
Publication date: 16 July 2013