Llew Rees Memorial Prize awarded to up and coming rugby player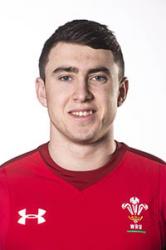 Rhun WilliamsBangor University has awarded its annual Llew Rees Memorial Prize to one of Wales' up and coming rugby players.
Rhun Williams, 18, from Pontrug near Caernarfon, has been awarded the prize as he has made the greatest contribution to raising the profile of Bangor University sport by his personal achievement at international level.
As a first year student at the School of Sport, Health and Exercise Sciences, Rhun has had an incredible year which has seen him represent Wales Under 20s in the 2016 rugby six nations competition.
A Bangor University Sports Scholarship recipient, Rhun has come through the Rygbi Gogledd Cymru Academy pathway since he was 16 years old. Coached by Josh Leach, who supported his application for this award, said:
"It has been a pleasure to watch him mature into the player and character he is today.
"For several years Rhun has been recognised as a very exciting prospect in the Welsh Rugby Union National Player Development Pathway, and in his time has been a key feature in the success achieved by Wales Under 18s at the International FIRA Championship, in which Rhun was awarded Player Of The Tournament.
"More recently Rhun and Wales Under 20s made history when they were victorious in the 6 Nations Championship, claiming Wales' first ever Under 20 Grand Slam. During the tournament, not only did Rhun play a key part in all 5 games, but he was highlighted on several occasions by the television commentators as "a player to watch out for". I am sure Rhun now looks forward to furthering the success of this year's Wales U20 squad as they prepare for the Junior World Cup which takes place this summer in Manchester."
Delighted at receiving the prize, Rhun said: "I'm incredibly grateful to all the support I've received from Bangor University. Receiving a sports scholarship and now the Llew Rees Memorial Prize has enabled me to develop my rugby career whilst being able to pursue a university education. The prize will help with traveling costs and preparations for the forthcoming Junior World Cup."
Richard Bennett, Director of Sport at Bangor University, said: "During his first year Rhun has really raised the profile of Bangor University through his ever present role in the Wales U20 team and we are really excited that Rhun will playing for Wales in their U20 World Cup campaign which starts in June. With the tournament being hosted by the RFU, Welsh fans won't have far to travel to watch Wales' opening game against Ireland which will be played in Manchester City's Academy stadium on the 7th June 2016."
Rhun has recently secured a development contract with Cardiff Blues for the 2016/17 season.
Related stories:
A Grand Slam for Rhun
New partnership to develop North Wales rugby talent
Bangor University student selected for Wales U20 Rugby team
Bangor's elite athletes awarded Sports Scholarships
Publication date: 27 May 2016