Llŷn Student Graduates
Work experience has led to a job for a Bangor University student graduating this week.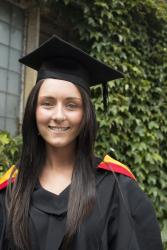 Cari Roberts
Former Ysgol Botwnnog pupil, Cari Ann Roberts, 21, from Rhoshirwaun, Pwllheli will graduate with a BA Communication and Journalism degree after three "brilliant years" at Bangor.
Cari said: "After school, I studied Media Production at Coleg Menai. I decided to study at Bangor University as the course looked really interesting and also I had the chance to study in Welsh, which is my first language. Bangor is about an hour's drive from where I live, so I decided to live at home and travel to Bangor by car. But I also made the most of being a student and went out with friends to the student night on Wednesdays.
"Throughout my studies I worked in a café at Llanbedrog at weekends, and it was great studying and also working. The money came in very handy for me!
"During my course I had a week of work experience with a local newspaper, The Caernarfon and Denbigh Herald in Caernarfon. I really enjoyed the experience and wrote 2 articles which were published. I also had work experience with Bangor University's Web Team. It was a great experience as I got the chance to film, edit, and write news features and also student profiles.

"The main highlight of my time at Bangor was producing a 20 minute factual programme for my dissertation in the third year, on Oriel Plas Glyn y Weddw in Llanbedrog. I thoroughly enjoyed editing the documentary.
"I was recently appointed to a job with the Web Team at Bangor University, as an Assistant Web Marketing Officer. It's great; I really enjoy working in the University."
Publication date: 12 July 2013