Local graduate achieves Education Degree
Proud of realising what hard work can achieve, a future teacher from Anglesey receives a 2:1 degree from Bangor University this week.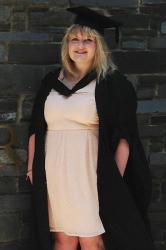 Swyn Jones
The former Ysgol Gyfun Llangefni pupil, Swyn Llewelyn Jones, 21, from Pentre Berw, graduates this week with a BA in Primary Education (QTA).

As an only child raised in a Welsh-speaking family on Anglesey, Swyn was interested in music and drawing. Choosing a career wasn't difficult for her, as many members of her family are teachers.
Swyn said: "I knew from an early age that I wanted to be a primary school teacher. I decided to study at Bangor because of the university's Welsh tradition, and the course was convenient as I could attend local schools on my Teaching Experience.

"For the three years, I worked on the weekends in the local shop in the village. The money was a big help, especially when I was living in halls. I also learnt the importance of how to balance my personal life with essays, and the planning work when I was on Teacher Training.

"I was on School Experience in the second term of every year. I had the chance to plan, assess and teach classes during the term. It was hard work but it was great seeing the children develop. I also represented the School of Education in workshops for children in Eisteddfod yr Urdd and Noddfa, Caernarfon. Having had these valuable experiences, I look forward to start my career as a teacher.

"During my time at university I was a member of the Welsh Students' Union (UMCB) and I made friends for life by living in Neuadd John Morris-Jones. I now look forward to having a full-time teaching post."
Publication date: 19 July 2013