Local schools gather for Bangor University law conference
Over 100 school pupils from as far as Solihull attended a special conference at Bangor University last week.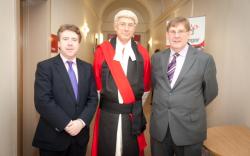 Sir Roderick Evans, former Presiding Judge for Wales (centre), conducted the hearing in Bangor'a Law Fair Moot Court competition. He is pictured with Prof. Dermot Cahill, Head of School (left), and Mr Gwilym Owen, lecturer in Law.
Held annually, the Law Conference is designed to give local sixth formers a taste of studying law at university. The event was opened by Sir Roderick Evans, former British judge of the High Court of England and Wales, before a number of Bangor lecturers gave presentations on some of the many aspects of law, including start-up law, the law of evidence and copyright law, the last of which focussed on the illegal downloading of music.
This year, pupils were also invited to attend a Law Fair being held for the benefit of Bangor's current crop of law students. The Fair enabled students and school pupils alike to meet prospective employers from a number of prestigious barrister and solicitor firms, to gain invaluable advice from practitioners and to make important contacts. Firms attending the fair included Atlantic, Civitas and Linenhall Chambers; Carter Vincent Jones Davis; Gamlins; Hugh James; Knox Commercial; Stephensons; Gwynedd Council; the Magistrates' Association; Globe Business Publishing (LawCareers.Net); Pearson Publishing; BARBRI International; Gateley LLP; Bangor Students' Law Society; Bangor University Careers Department; and Bangor's Winning in Tendering procurement research project.
This was the first time the School has held a Law Fair as part of its efforts to provide valuable networking opportunities for its students. They were also invited to attend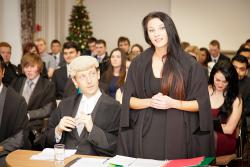 A student presents her case to the court in the Moot Court competition. special sessions covering career advice, an overview of local authorities' legal work and a presentation on Welsh-medium study opportunities. One particularly popular session was the mock trial, presided over by Sir Roderick Evans and practitioners from Atlantic Chambers and Linenhall Chambers. During the trial, Bangor students played prosecution and defence in a fictitious trial under simulated court proceedings – an excellent opportunity for law students to gain hands-on experience of the day-to-day work they might one day be undertaking themselves.
"Bangor Law School is fully committed to trying out new ventures to enhance the student experience. The Fair is in addition to our very successful internship programme, where we place students with firms and chambers to get valuable pre-graduation work experience, as well as extracurricular activities, such as an active mooting (mock trials) scene and numerous guest lectures ", said Professor Dermot Cahill, Head of Bangor Law School. "We are most grateful to all of the exhibitors for their support in this, our first ever Law Fair."
Publication date: 3 December 2013