M-SParc's Emily wins Womenspire award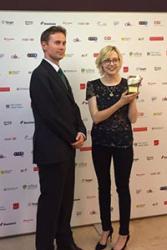 Emily Roberts with Christopher Warner, Chwarae TegThe Project Administrator for M-SParc, the Bangor University owned Menai Science Park, has won a Chwarae Teg Womenspire Award.
Emily Roberts won the Women in Rural Economy category, which raises awareness of the barriers women living and working in rural areas face.
A Bangor University Psychology graduate, Emily was the first official M-SParc member of staff in what is now a team of five, and has been in this post for three and a half years.
Emily said: "This is a great opportunity for me to be able to support and encourage other women in the region. Having the chance to develop strategies that have had an effect on M-SParc's company ethos towards equality has been a great feeling. For me, M-SParc is about providing more than office and laboratory space for companies in the Science and Technology sectors, it's about making those careers more accessible for everyone.
"We have ERDF funding through the Welsh Government and have had to develop 'cross cutting themes'. I was able to ensure some of these were based around mentoring and encouraging women in the sector, and hosting forums and conferences to assist them. Being awarded for my efforts means a lot, but it doesn't mean the work is done, and I will continue to do my bit to help get more women into the science and technology sectors."
Ieuan Wyn Jones, Director of M-SParc, said: "As a Science Park we are extremely pleased that Emily has won this award. During her work with us, she has shown exceptional commitment and is firmly committed to promoting a greater role for women in the field of science. She has an infectious enthusiasm for everything she does and this in turn means that we all go the extra mile in our work".
The Womenspire Awards celebrate the achievements of Welsh women from all backgrounds who are doing extraordinary things in all parts of their everyday lives. Categories reflect a wide variety of activities and encourage applications from women of all ages and across all walks of life who are proud of what they are achieving – whether it's in their private or professional lives or in the wider community.
Bangor University is committed to advancing women's careers in science, technology, engineering, medicine and mathematics (STEMM), principles which are embodied in the Athena Swan Charter initiative. The University has achieved the Bronze Award and is committed to improvement. The Athena SWAN initiatives and projects address and benefit both staff and students.
Publication date: 22 June 2017