MA graduates find success on BBC and ITV
Two recent MA graduates from Bangor University have found success on primetime TV.
Lindsay Walker and Rob Zybronski, who graduated from the School of Creative Studies and Media, have been working on BBC1's Children's Ward and ITV1's The Harbour.
Rob Zyborski, 35, who is from Bangor, works as a freelance camera operator and since graduating has worked for both ITV and S4C through the production company Slam Media.
After the Harbour became one of the most watched shows on ITV Wales last year it was picked up by ITV1, with the first episodes in the series getting over 3m viewers.
Although he now lives in Cardiff, he said his latest work will bring him back to the Bangor area.
"My latest project with Slam Media, and the follow-up to The Harbour, is called The Strait," he said.
"This show follows the lives of the many diverse people who work on the Menai Strait. This show will be on ITV Wales at the start of January 2018 and we are hoping that it will make it onto ITV1 as well."
Creative
Lindsey Walker, 28, and from Anglesey, started working for Chwarel TV after a period working as freelance photographer after graduating.
Her work with Chwarel TV led to a role on BBC's The Children's Ward, as both a photographer, camera assistant and working on the digital footage.
"I also took some official photographs for the BBC to use as promotional images, so they can now been seen on BBC iPlayer and the BBC Website, which is nice," she said.
"I've worked at Ysbyty Maelor Wrexham and recently spent five weeks in Ysbyty Gwynedd where I have been acting as the digital imagining technician.
"I pick up footage in the morning from the hospital, stop off at Antenna (the S4C building) and head to the office to back up all the footage from the day before.
"Chwarel TV are also working on other documentaries that are keeping me busy in and out of the office where I am getting film GV's and interviews with some lovely equipment including the Sony FS7."
Lindsey Walker has also been focussed on a number of her own projects since graduating.
"I wanted to make sure that when my course at Bangor finished it didn't mean I had to stop being creative and exploring filmmaking," she said.
"So I wrote a short film called Bound and it seemed to get a nice reaction online, I also worked on 6 music videos in the space of 12 months that were my own projects.
"I continued to concentrate on my Photography with Weddings and Portrait sessions keeping me busy.
"I also started working with BAFTA Cymru as a photographer and ambassador in that time, I had previously met Hannah Reybould (the head of BAFTA Cymru) through Bangor university working with Ffilm Cymru to help youngsters make documentaries.
"Our paths crossed again and I ended up becoming a photographer for their North Wales events.
Further examples of Lindsey's work can be seen here, and Rob Zyborski's work here.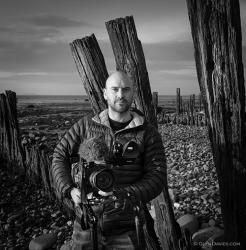 ©️Glyn Davies
Publication date: 28 November 2017