MA paratrooper film wins award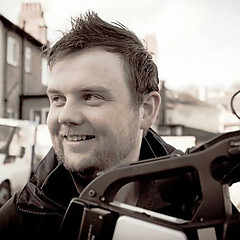 John EvansA film by a former Bangor University MA student has won the best film award at a festival in Cardiff.
Jam Man was one of 20 films shortlisted under the Best Fiction Film category at the Cardiff Mini Film Festival.
John Evans, from Bangor, graduated with an MA with distinction in Filmmaking last year, after achieving a first class degree in BA in Film Studies at the School of Creative Studies and Media.
He is now a producer/director with Cwmni Da, TV production company based in Caernarfon.
"The award is important for everyone involved in the production. To be nominated really helps a production CV so the win is all the more important," said John Evans.
"The MA at Bangor was instrumental in the development not only of the film by me as a filmmaker.
"It's more than just educational or vocational training. It's a safety net to allow you to make mistakes and to learn from them, while also supporting you technically and creatively. It is honestly invaluable."
The film, which was completed during his final year as a student, follows former Paratrooper Chris who, troubled by his past, must deal with the arrival of his estranged daughter.
Set on a journey to rediscover their relationship Chris must challenge his own demons to save Kelly from hers.
The film starts Iago McGuire, Ceri Williams, Andrea Edwards, and Dyfrig Evans. The film was produced alongside Lester Hughes, a technician and PhD student at the School of Creative Studies and Media.
"I wrote a feature length script originally. It was the same premise with just a lot more depth and character development. The short version was just a way to get the story made," said John Evans.
"It created its own set of problems and surprises as to ensure it could be a short film and not just a feature crammed into a short. It was great to see its potential on screen and to demonstrate were these characters could grow.
"The next step is to go and make another documentary before getting to do some more drama."
It's been an eventful few weeks for John Evans, whose documentary Cysgod Rhyfel (The Shadow of War), which reveals the experiences of Welsh servicemen, was broadcast on S4C last month.
Two other films, Not and Long I Stood There, also won the Best Welsh language film award and Welsh Royal Television Society award for best Fiction Film at the Ffresh film festival last year.
In 2013 he directed Curtains, a short documentary film set in a Women's refuge which highlighted domestic abuse against women. The film was featured on BBC Three's Fresh.
Publication date: 10 June 2014