Mark gets ready for world cycling tour
A BANGOR University student is getting ready for a once in a lifetime round the world cycling trip after he graduates this week.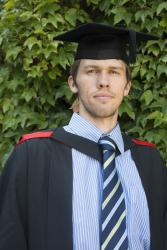 Mark Phillips
Mark Phillips, 22, from Tameside, Manchester, who graduated with an MSc Chemistry degree at Bangor this week, is gearing up to visit the top 50 wonders of the world on a bike over the next two years.
Mark, along with Russell Selby, a Loughborough University student, and Jacob Mellor, an Edinburgh University graduate, hopes that the ambitious tour will be a great success.
Mark said: "We all know each other from when we studied at Audenshaw Sixth Form College - so that's long enough to know that we can get along and take on this extreme challenge. We spent the summer after first year of University in a van travelling around Western Europe so we're quite used to falling out and then making up!"
"I want to do this challenge as it will give me the chance of cycling around the world living a simple lifestyle, raising money for our chosen charities while at the same time finding my own place.
"I might get a little bit homesick but I have no worries about giving up my home comforts for a few years! We're planning to work as we go, I am a climbing instructor and Jacob is a skiing instructor so I'm sure we can find some sort of work somewhere.
"We don't have an exact route as you have to be flexible, what with Visa's and everything and as of destinations, we have fifty to start with…fifty of the most spectacular sights on planet Earth…a pretty good place to start! These include Vatican City, Great Wall of China, Great Barrier Reef, Christ the redeemer and Teotihuacan.
About Bangor, he added: "I came to Bangor because of the beautiful location and the fact that you are so close to the mountains and the sea, so whatever is your sport of choice, you can do it right here on your doorstep."
To find out more about Mark's journey visit the website
Facebook: Wonders of the World Charity Cycle
Twitter: Wonders of the World @charitycycle13
To sponsor Mark links can be found here
Publication date: 19 July 2013