Masters programme sees over 300 postgraduate students working with local businesses and organisations
Dafydd Roberts of Sain Cyf. shares his experience of ATMA Masters programme which includes a practical work-based component has seen over 300 graduate in subjects across the spectrum of disciplines taught at Bangor University. All the Access to Masters (ATM) postgraduate projects have been related to Welsh Government priority sectors.
The successful ATM programme enabled students to develop their skills and knowledge in the taught Masters courses while working on a practical, industry-based project undertaken with the support of a local company to solve a specific business challenge.
Over the five-year programme, Bangor University exceeded its 250 student initial target by recruiting 336 students to the programme which was funded by the European Social Fund (ESF) via the Welsh Government.
On a number of occasions these placements led to the student being directly employed by the host company on graduation.
Rondo Media Cyf, has employed ATM student Rhys Gwynfor. Bedwyr Rees, of Rondo Media, praised the programme, highlighting the benefits:
"I have overseen three ATM projects between Rondo Media and Bangor University and each one has been of benefit to both the business and the student involved. Bringing business and academia closer together is something that I strongly believe in as it raises everyone's skill level and eases the transition from study to career," he said.
Dafydd Roberts, Sain (Recordiau) Cyf said: "Sain is currently working with the University's School of Computer Science to create an App that will offer a streaming service for Welsh music supplied by all the labels in Wales. Digitising our vinyl archives was an important part of the preparation for this project, and we received two students on the ATM scheme to help with this."
"Partnerships are two way streets, and we've found that the more the company gives to the graduates, then the more we have benefited in the long run, either as having new dedicated recruits, or as contributors to further long term projects. The sharing of knowledge, good practice and experience benefits everyone," he added.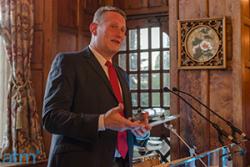 Prof James Intriligator shared his views at a celebration event.Prof James Intriligator, an expert in consumer psychology at Bangor University, has supervised nine ATM students during the period. He said:
"The ATM programme allows our unique, strong, and independent students to come together with local businesses to co-create exciting opportunities. The ATM has enabled businesses to create innovation-led new products, processes, and services. "
Rhiannon Wilmot a psychology ATM student commented that: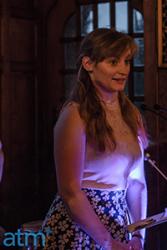 Student Rhi Willmot spoke of her experience on the ATM programme."ATM allows you not only to undertake a Masters degree, but also to get invaluable real world experience. I have been able to learn much more about the intricacies of working relationships with a dynamic business over the year. It is great to be able to undertake research that has clear benefits to a real company. Without ATM I would not have been able to complete my masters, but I also wouldn't have learnt all the things that make me proud to call myself an ATM student."

The achievements of the ATM programme were celebrated at a closing event recently. Although this programme is now closed, Bangor University offers companies, organisations and businesses a range of means of accessing support and knowledge at the University. Bangor University students are also encouraged to gain practical experiences through a range of programmes and opportunities.
Publication date: 19 June 2015