Medieval Music Theory in Context workshop, July 2012
After years of relative stagnation, the study of medieval music theory is showing the signs of a vital renaissance. Ironically, it is the marginal status of this field which has reignited this interest: as the study of medieval theory moved from the centre of musicology towards its periphery, scholars have become increasingly aware of its close interconnections with other disciplines, discourses and modes of representing knowledge in medieval culture.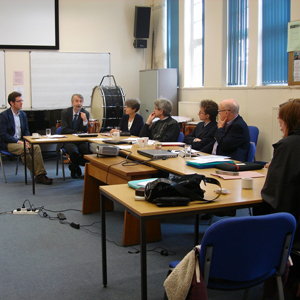 Medieval Music Theory in Context workshop, July 2012: L-R: Dr. Christian Leitmeir; Michael Bernhard; Elzbieta Witkowska-Zaremba; Charles Burnett; Andrew Hicks; Calvin Bower; Elina Hamilton; Gabriela Currie.
A fresh and manifold approach suffers from the hindrance that specialists are divided between different disciplines and lack a research infrastructure. In 2011 Dr Christian Thomas Leitmeir and Ms Elina Hamilton made a first effort to solve this problem through an informal workshop at Bangor (July 2011). Building on the success of this meeting, this workshop could be repeated on an international scale in 2012. This was made possible thanks to generous funding from Institute of Medieval and Early Modern Studies (Aberystwyth–Bangor).
The organisers were delighted to welcome a small, but select group of specialists in medieval music theory, representing different ages, countries and areas of expertise.
After two intense days of stimulating papers and discussions, the workshop concluded to Conwy Castle on invitation from the Mayor and Councillors of Conwy.
Contributors and topics:
Professor Elżbieta Witkowska-Zaremba (Warsaw, Academy of Sciences)
Musical past from the perspective of medieval theorists
Dr Christian Thomas Leitmeir (Bangor University)
Musical examples in theoretical discourse: Function, transmission, problems
Professor Calvin Bower (Chicago University / Munich, Academy of Sciences)
Uses of Carolingian Theory in Analysis of Chant
Ms Elina Hamilton (Bangor University)
The transmission and intellectual milieu of 14th-century English treatises
Professor Gabriela Currie (Minneapolis, University of Minnesota)
Music-theoretical lore at the crossroads of Mediterranean cultures
Professor Andrew Hicks (Ithaca, Cornell University)
The reception of late-ancient Greek harmonic theory in Arabo-Persian philosophical contexts
Professor Charles Burnett (London, The Warburg Institute)
Music Theory, Sympathetic Vibration and Cosmology
Dr Michael Bernhard (Munich, Bavarian Academy of Sciences, Director of Lexicon musicum latinum):
Ground-work for future research in music theory
Publication date: 5 September 2012