Midwives Scoop Awards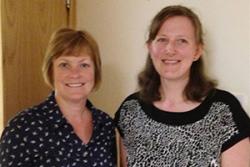 Mary (left) and Sheila received their Awards at a ceremony held at Bournemouth University.Two Bangor University staff have won prizes in the 2013 Iolanthe Midwifery Trust Awards recently.
Sheila Brown, a part-time lecturer at the School of Healthcare Sciences and a Community Midwife in Wrexham, won the Tricia Anderson Award to organise an 'Evidence & Skills for Normal Labour and Birth course' for 40 midwives.

2013 is the final year for this award made in memory of midwife Tricia Anderson who died in October 2007. Tricia worked in Bournemouth as an independent midwife and was a passionate advocate for women and their right to choose the birth they wanted. The Award supports individuals or groups wishing to undertake activities that reflect Tricia's passion, innovative approach, scholarship and commitment to the wellbeing of mothers and midwives.

Sheila used her prize money to fund a midwifery expert in Normal Birth – Denis Walsh – to come and talk to the Midwives Study day held at the Ramada Plaza in Wrexham.

Sheila also won the 'Dame Rosalind Paget' Award. This is awarded by the Dame Rosalind Paget Trust, set up in 1919. Rosalind Paget is best remembered as a founding member of the Midwives' Institute, which became the Royal College of Midwives, and for her work to improve the status of midwives. The Award is given annually to recognise midwives that progress practice through holistic care for women and families.
Mary Longworth, Director of Midwifery Education at the School of Healthcare Sciences also received a monetary award from the Iolanthe midwifery Trust to support her doctoral studies through the University of Manchester investigating fathers' influence on women's decision making.

Source: Betsi Cadwaladr University Health Board
Publication date: 22 November 2013