Mind the Gap: Mindfulness tops agenda as Shadow Cabinet Minister for Mental Health visits Bangor University
The Shadow Cabinet Minister for Mental Health, Luciana Berger spent the afternoon at Bangor University's Centre for Mindfulness Research and Practice (CMRP) to meet with their team and discuss mindfulness in society. Afterwards Ms. Berger introduced the Pro Vice Chancellor Professor Oliver Turnbull's Public Lecture on Neuroscience for Psychotherapists.
During the round table meeting the Ms Berger was updated on the training and research that CMRP had conducted since its formation over 10 years ago, and spoke with the co-founder of the All Party Parliamentary Group on Mindfulness, Chris Ruane.
CMRP, part of Bangors highly ranked School of Psychology, was the first centre in Europe dedicated to training in mindfulness-based approaches and was the first to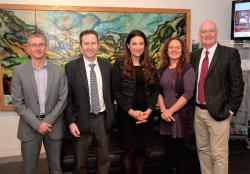 Prof, John Parkinson, Prof. Oliver Turnbull, Luciana Berger MP, Prof. Nicky Callow, Chris Ruane former MP for Vale of Clwydestablish a Master's programme in mindfulness. CMRP has trained more than 1,200 professionals to teach mindfulness. Eluned Gold, UKCP registered psychotherapist and Head of Continuing Personal and Professional Development at CMRP, advised that mindfulness has a role to play in promoting health and wellbeing within individuals and throughout society. She said that teaching mindfulness to parents, especially during the perinatal period, teaches parents skills that will support family life for its life span. Early childhood experiences can affect a child's mental and physical health into adulthood.
To support that CMRP is researching and training mindfulness across the lifespan by engaging with projects such as; Mindfulness and Parenting, Mindfulness and Childbirth, Mindfulness in the Workplace and Mindfulness with Older Adults.
Ms Berger said:
'Mindfulness is becoming increasingly recognised as an important technique for managing and improving mental health. The University of Bangor is at the forefront of this work, and it was fantastic to learn more about what they do. In my role as Shadow Cabinet Minister for Mental Health I will continue to raise the profile of mental health and mindfulness in Parliament.'
'Eluned Gold, UKCP registered psychotherapist and Head of Continuing Personal and Professional Development at CMRP, said:
'In spite of excellent evidence and being approved by NICE as an intervention for recurrent depression; the availability of Mindfulness-based Cognitive Therapy (MBCT) throughout the NHS England is still very patchy. 71% of GPs in England would like to refer patients to mindfulness, but only 1 in 5 are aware of having access to mindfulness in their region'.
Chris Ruane, former MP for Vale of Clwyd and Honorary President of an All Party Parliamentary Group (APPG) on mindfulness said:
'The APPG on Mindfulness supports further research and implementation. CMRP and Bangor University are recognised and respected internationally as a centre for excellence in teaching and upholding quality and integrity in the field'.
Contact:
Kate Talbot, Office of Luciana Berger MP, 0207 219 7102, kate.talbot@parliament.uk
Sharon Hedley, Centre for Mindfulness Research and Practice, 01248 383663, sharon.hadley@bangor.ac.uk
Publication date: 20 January 2016