Mindfulness-based contribution to improving health and well-being in Wales receive attention of Senedd members
Assembly Members and health and care professionals were invited to a reception at the Senedd in Cardiff today (3.12.13) to hear how innovative approaches to health and well-being are being rolled out in Wales and elsewhere as a result of work by Bangor University's Centre for Mindfulness Research and Practice.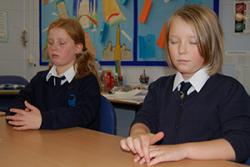 Ella Manfredi and Ellidy Cole of Ysgol Pen y Bryn practicing Paws B in their classroom.Mindfulness is an integrative mind-body based approach that helps people change how they think and feel about their experiences. The guests invited to the Senedd reception heard how mindfulness-based exercises can support positive outcomes in health and education in Wales.
The Centre at Bangor University has adapted mindfulness-based cognitive therapy and other useful mindfulness-based programme to a range of situations, from adaptations for the primary school classroom so that children are in a mind-frame ready to learn, to providing a supportive technique for people dealing with chronic pain.

Mark Drakeford AM, Minister for Health & Social Services opened the event saying:
"I am impressed by the ground-breaking research which the Centre for Mindfulness Research and Practice have been undertaking on promoting mindfulness-based approaches. The recent research undertaken on adapting mindfulness-based cognitive therapy for use in both primary and secondary schools in Wales has had a very positive impact on promoting the positive mental health and wellbeing of both teachers and pupils. I look forward to hearing more about the success of mindfulness-based approaches at this event."

Centre Director Rebecca Crane said:
"We're delighted to have this opportunity to highlight our research. Over the last few years we have seen a surge in interest in what mindfulness has to offer, both from individuals and organisations. We have trained mindfulness practitioners and individuals wanting to practice mindfulness for themselves. The team at CMRP have been researching and developing adaptations of mindfulness practice for different circumstances and settings."


Some of the pupils of ysgol Pen y Bryn, Colwyn Bay practicing Paws B- the version of mindfulness meditation adpated for the classroom are: : left-right: Caeo Adey-Davies, Bryn Hayton and Ali Al- Ranni.Ysgol Pen y Bryn in Colwyn Bay is just one of the schools who are using a version of mindfulness practice in the classroom. 'Paws B' a primary school curriculum created by Tabitha Sawyer, Rhian Roxburgh, both teachers at Ysgol Pen y Bryn, with Sarah Silverton, one of the CMRP teaching team, is the mindfulness curriculum woven into the National Curriculum at the School. The approach, teaches the children about the mind, recognising how it can be a bit 'all over the place' like puppies that need to be trained to concentrate.

According to Tabitha Sawyer, Assistant Head teacher, the pupils are more ready to learn after a short mindfulness practice.
She says:
"We've been amazed at how the children have taken to it and how they've responded. They recognise in themselves that they need to bring their attention back into the classroom after break time for example. And though young, they can recognise the benefits for themselves."
PawsB is one of three school programmes available through the Mindfulness in Schools Project, for children and teachers to support learning and well-being in schools.

Research, led by Dr. Dusana Dorjee, is now underway at other primary and secondary schools in North Wales to evaluate the effects of mindfulness training for both teachers and pupils. The research with pupils includes brain measures of their ability to concentrate and manage their emotions.

She says:
'In our experience pupils enjoy learning about the brain science behind mindfulness. Some of them also had a chance to visit our Mindful Brain Lab at Bangor University. In this way, our research on mindfulness in schools is an opportunity for pupils to learn about how we can train the brain for well-being and to experience first-hand how we can measure the brain changes linked to mindfulness practice.'

The Centre has also been working with foster parents to teach them skills to cope with the stresses and strains of the important role that they have.
Explaining their approach, Eluned Gold, from the Mindfulness Centre at Bangor University said:
"the aim of the programmes is to help foster parents to cope with the demands of the role and with their own stress levels, so they are better able to parent the children in their care.

"We are assessing the effects of mindfulness training on the parents' own stress levels, on their well-being and on their coping strategies. We are also interested in how improvements in parental well-being will impact on the children being cared for."

Since 2003 Trish Bartley, a member of the Centre teaching team, has been collaborating with Alaw Ward at Ysbyty Gwynedd to offer mindfulness classes to people with cancer and their carers and also now works with Ysbyty Glan Clwyd.

In the last eight years, around 2,000 people in north Wales have followed mindfulness courses which support people to flourish, reduce stress and increase wellbeing. In January 2014, the Centre is offering for the first time an eight-week course specifically for people with depression and anxiety.


Publication date: 3 December 2013