Minister breaks ground for ground-breaking development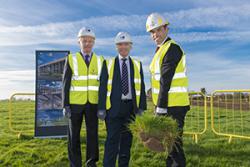 Prof John G Hughes, University Vice-Chancellor and Ieuan Wyn Jones, Executive Director of M-
SParc with Minister Ken Skates as he cuts the first turf at the Science Park site.Menai Science Park (M-SParc) took a leap forward in the construction of Wales' first dedicated Science Park this week, with the Cabinet Secretary for Economy and Infrastructure, Minister Ken Skates attending the site on Anglesey to break the ground.
This ambitious project, which is set to open its doors in 2017-18 has secured £10.8 million investment from the Welsh Government and a further £10.2 million of European Regional Development Funding through the Welsh Government, and will now being the construction of the new building and landscape. The aim of the project is to provide excellent office and laboratory facilities for ambitious people who wish to grow their business in the region.
Anthony Dillon, Managing Director of Willmott Dixon Construction Ltd, said "We are pleased to begin construction on the M-SParc building that will house up to 300 people In addition we will be providing community benefits during the construction, including internships, apprenticeships, and workshops for local supply chain and people who want to develop their skills in the industry. This project is a first for Wales, and should have a positive impact on this region for generations to come."
The Project will hold an "introduction to Building Information Modeling" session for the supply chain on the 16th of November in Bangor. The aim of the event is to prepare the local supply chain with the latest skills and techniques in the sector. Businesses who would like to attend are encouraged to get in touch via the M-SParc website. http://tinyurl.com/h8rolus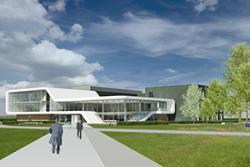 An architect's impression of the new site.Executive Director Ieuan Wyn Jones said "It has taken a lot of hard work to get to this point, and we're pleased to see the work beginning on site. Behind the scenes, work has been ongoing to secure tenants, and we already have a number of companies signed up as Virtual Tenants. We are also working closely with potential anchor tenants who we hope to attract to the Park. We are proud to be offering a range of business support services to these companies, most of who are already based in the region, and can state that the demand is there for a Science Park in the region."
The Economy Minister Ken Skates said:
"It is great to see the progress being made at the Menai Science Park, which is being supported by over £20m of Welsh Government and EU funding.
"Once up and running the Science Park will offer huge benefits to the North Wales region. I am confident that its focus on low carbon and renewable energy sectors will complement the work being undertaken by the Energy Island Initiative and the Anglesey Enterprise Zone and will help local businesses more widely to create jobs and achieve sustainable economic growth."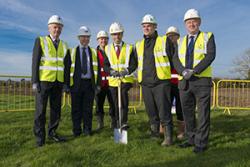 Professor John G Hughes, Ieuan Wyn Jones, Minister Ken Skates, and members of Willmott Dixon, who have just won the contract to construct the Science Park.M-SParc is wholly owned by Bangor University, and Vice Chancellor John. G. Hughes was on site. He said "Bangor University has research excellence in many of the fields M-SParc will focus on, including chemistry and ICT. The partnership between the two will continue for M-SParc's lifespan, with Bangor offering Research and Development support to companies located at the Park.
Further information can be found on M-SParc's website (www.m-sparc.com) or by emailing post@m-sparc.com.
Publication date: 31 October 2016